Commuters face severe travel disruption after a trail derailed near Watford Junction following a night of heavy downpours.
The 6.19am service from Milton Keynes to London Euston during the Friday (16 September) morning rush hour reportedly derailed because the train hit a "landslide", according to passengers.
"We would like to apologise for the disruption we are seeing across the railway network today. This is due to a suspected derailment outside Watford Junction," a message to passengers said.
"Some services have had to be suspended as a result. Please listen for announcements concerning specific services. Thank you for your understanding."
A spokesperson for London Midland said: "There has been an incident at Watford Junction this morning. The extent of delays is not confirmed."
Martin Frobisher, route managing director for Network Rail, said: "A train hit a landslip, caused by torrential rain, resulting in a small section of the train to leave the tracks a few miles north of Watford today. The train remained upright and there are no reported passenger injuries.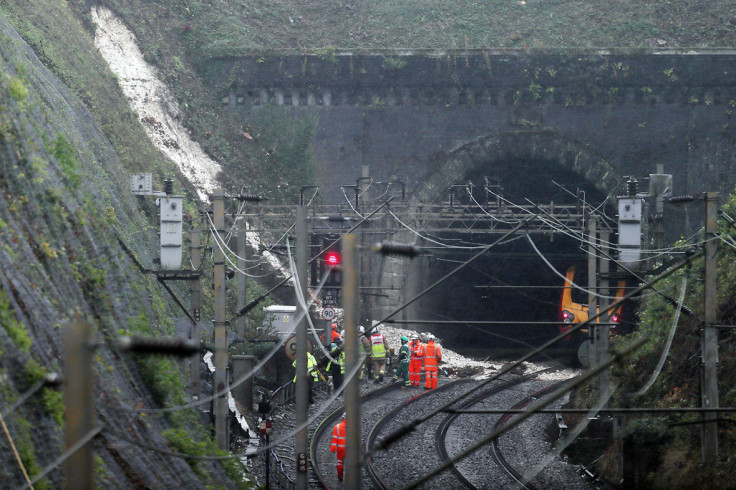 "Engineers are on site and train services are now running through the area but it will be some time before a normal timetable resumes. Passengers are advised to check www.nationalrail.co.uk before they travel for the latest information.
"Our priority is to reopen the railway as soon as it is safe to do so. A full investigation into what happened will take place."
Advice for Virgin Trains customers:
You may use your ticket on the following operators

Chiltern Railways on all reasonable routes
East Midlands Trains on all reasonable routes
TransPennine Express on all reasonable routes
Virgin Trains East Coast between London Kings Cross and Leeds / Edinburgh
Arriva Trains Wales between Birmingham International and Shrewsbury / Crewe / North Wales
Advice for London Midland customers:
You may use your ticket on the following operators on all reasonable routes
Chiltern Railways
CrossCountry
Great Western Railway
London Overground
Thameslink
Virgin Trains
East Midlands Trains
TfL Rail
Road transport between Wellingborough and Northampton
Advice for Southern customers:
You may use your ticket on the following operators on all reasonable routes
London Midland
London Underground