Donald Trump has described an African-American pastor as a "nervous mess" the day after she interrupted him during his speech to stop him from campaigning in her church in Flint, Michigan.
The Republican candidate said that the Rev. Faith Green Timmons interrupted him because she had a political agenda.
Timmons stopped Trump as he spoke from the lectern at the Bethel United Methodist Church as he began to attack Democrat candidate Hillary Clinton.
"Mr Trump, I invited you here to thank us for what we've done for Flint, not to give a political speech," she said calmly.
Trump appeared to be sheepish and amiably agreed to her request to change his remarks, saying: "Then I'm going to go back onto Flint, OK?"
But the following day, Trump said on Fox TV that "something was up" about the encounter, and called Timmons a "nervous mess".
"Something was up because I noticed she was so nervous when she introduced me," he said. "When she got up to introduce me she was so nervous, she was shaking. I said, 'wow, this is kind of strange'. Then she came up. So she had that in mind, there's no question.
"She was so nervous. She was like a nervous mess, and so I figured something — I figured something was up, really."
By the time of the Fox interview, Trump had learned that Timmons had posted on Facebook before his appearance: "He will not use us, we will educate him".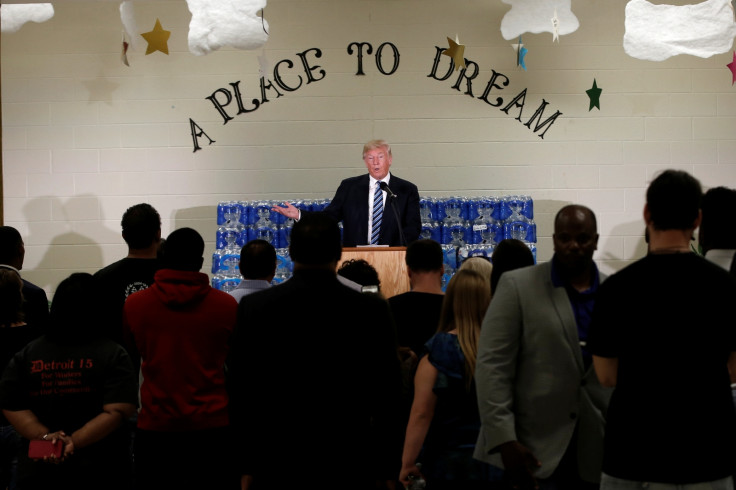 Trump also said members of the congregation started to shout: "Let him speak, let him speak".
"I mean, everyone plays their games. It doesn't bother me," he added. "I'll tell you what made me feel good, the audience was saying let him speak, let him speak, and the audience was so great, and these are mostly African-American people, phenomenal people, and they want to see change."
In fact, witnesses, including an NPR reporter, said Trump was heckled by several members of the audience after Timmons pulled him up short. Some shouted pointed questions, asking him, for example, if he discriminated against black tenants when he was a landlord.
That was also captured on video as Trump responded to the question, saying: "No, I never would."
That's when Timmons stepped in again — this time to defend Trump, saying he was a guest of the church and "you will respect him."
"Thank you. Thank you, Pastor," Trump responded.
The pointed questions returned at the end of his remarks, but members of the press were hustled out of the church then, reports NPR.
"Had he stuck to what his camp claimed he came to do," Timmons wrote afterward on Facebook, "we would not have had a problem!"