America's worst drought for 25 years is threatening the global economy as it cripples the country's grain production and sends the price soaring.
According to a report by HSBC, bloated food prices loom over the global economy and present the temptation for governments to hoard produce.
The cost of grain has had a knock-on effect on to livestock prices, because it has become much more expensive to feed them, and other commodities.
There is also a problem for the energy market which is increasingly reliant on grains for biofuel.
"We conclude that this is another dampener for the global economy at a time when the headwinds are already acute," said the HSBC report, authored by senior global economist Karen Ward.
"The squeeze on consumer pockets is unlikely to be compounded by monetary tightening. But should governments panic and begin hoarding, this has the potential to escalate, carrying dangers of social unrest in parts of emerging markets, as we have seen clearly in the past," she argued in Less Bread for Dough.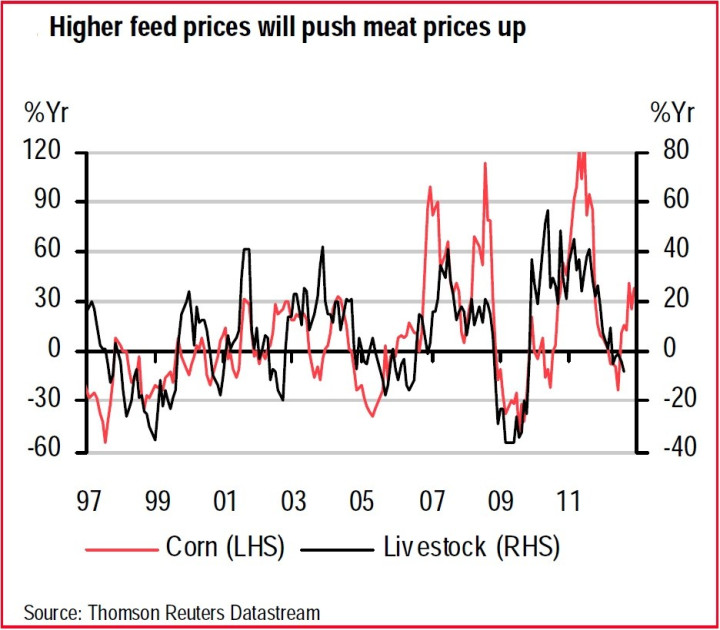 Since the start of the year HSBC found that corn is up 25 percent, wheat 30 percent, and soybeans 42 percent.
"As yet, nothing suggests that prices will continue to spiral upwards," Ward's report said.
"Coming into this year, most grain stocks were reasonably high. These can be run down to help meet demand until new harvests are reaped in unaffected parts of the world.
"But much depends on government behaviour. With memories of Haiti's 2008 food riots and the Arab Spring (where high food prices played a part) still fresh, panic buying by governments and/or export bans would only exacerbate the problem and may cause social unrest."
The United Nations' World Food Index, which measures the monthly price changes of five key food products, showed a 6 percent jump in global prices for July to 213, up from 201 in June.
This spike takes the benchmark past highs of 2008 which preceded a global food crisis, but below its 238 peak recorded in February 2011. Rioting followed in North Africa and the Middle East.
Discourage protectionist measures
Leaders in the G20 are scheduled to meet in late August to discuss the US drought, with the potential for emergency measures being brought into effect.
Another meeting of the UN Food and Agriculture Organisation's Rapid Response Forum, which attempts to discourage unilateral tariffs and other protectionist measures applied to food exports, could follow in September should prices rise further.
Food price inflation in the UK slowed to a two-year low in July, easing the pressure on household finances which have been squeezed by a high cost of living and stagnant wage growth, according to the latest shop prices index from the British Retail Consortium (BRC).
Heavy discounting and promotions by embattled retailers, struggling to lure in recession-conscious consumers, has helped drive down shop prices as the British economic downturn sharpens.