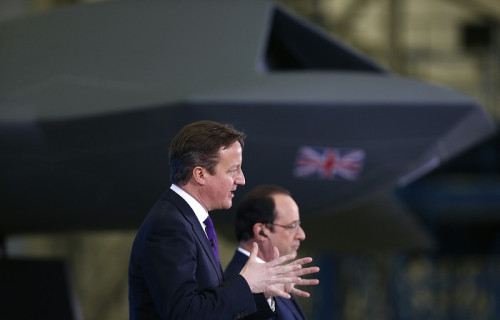 Britain and France have agreed to cooperate more closely on defence and space technology despite continued tension over the future of the European Union.
UK Prime Minister David Cameron and French President Francois Hollande met at an Anglo-French summit at RAF Brize Norton in Cameron's Oxfordshire constituency on Friday and agreed to invest jointly in outer space satellite technology.
The UK Space Agency and its French counterpart, the Centre National d'Etudes Spatiales, will collaborate on a wide range of activities, including Earth observation and telecommunications satellites.
Both nations also agreed to increase cooperation on civil nuclear power research and to invest in the latest phase of a combat drone scheme.
A £120m feasibility study will be launched for a new armed drone project, the Future Air Combat System, and £500m will be spent on a joint purchase of anti-ship missiles.
France has also agreed to exchange delivery slots for two Airbus A400M military transport aircraft so Britain can receive them earlier than planned.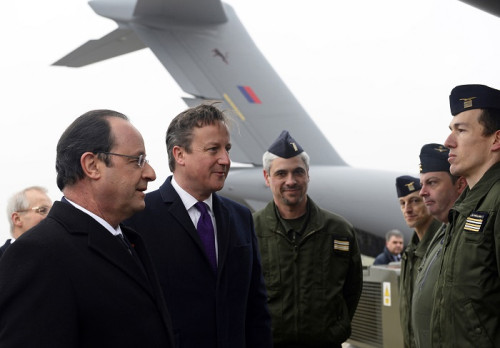 Cameron said Britain and France's relationship was as "close and important" as ever, while Hollande highlighted the "very strong" military and diplomatic cooperation between both countries on Syria, the Central African Republic and Libya.
However, both leaders openly clashed on the future of the European Union, with Hollande dismissing Cameron's demands for EU treaty changes by 2017 as "not a priority for the time being".
"We can't just expect to follow the example of one country in Europe in order to determine the rest," the French premier said.
Cameron's Conservative Party is calling for changes to existing EU treaties so the UK regains more powers over justice, immigration and welfare. The prime minister has also promised to hold an in-out referendum on the EU by the end of 2017 if the Conservatives win the 2015 general election.
"Of course we are not going to agree about everything," Cameron said. "Francois is a French Socialist and I am a British Conservative."
The UK prime minister's plans for EU reform, however, were thrown into disarray hours after the summit, when a bill to authorise the proposed referendum on Britain's EU membership was defeated in the House of Lords by Labour and Liberal Democrat peers.