Consumer price index inflation rate was 0.6% in August, unchanged from a month ago, according to official data.
The Office for National Statistics (ONS) said the main upward pressures on inflation were rising food prices and air fares, but these were offset by falls in hotel accommodation, and smaller rises in alcohol, and clothing and footwear prices than a year ago.
Economists had expected the rate to edge up to 0.7%, as the weaker pound is forecast to push up import prices.
The Retail Prices Index measure of inflation dropped to 1.8% in August from 1.9% in July.
The ONS said there was "little sign" of the plunge in the value of the pound to 31-year lows following the Brexit vote being passed through to consumer prices.
Mike Prestwood, head of inflation at the ONS, said: "Raw materials costs have risen for the second month running, partly due to the falling value of the pound, though there is little sign of this feeding through to consumer prices yet."
The fall in the value of the pound makes British goods cheaper to export on the global market, but makes imported goods and products more expensive.
Tom Stevenson, investment director for personal investing at Fidelity International, said: "While inflation has remained unchanged this month, the impact of currency changes works with a lag so further rises in consumer price index inflation should be expected."
"With fresh concerns being raised about growth prospects in the UK, the spectre of stagflation cannot be dismissed – something the Bank of England will be desperate to avoid."
Capital Economics UK economist Scott Bowman said: "Consumer price index inflation inflation should resume its upward journey in coming months.
"The effects of sterling's recent fall on import prices will gradually feed through to consumer prices, while the contribution from the previous falls in commodity prices will continue to wane."
Consumer price inflation hovered close to zero for most of last year, mainly due to the plunge in the global price of oil.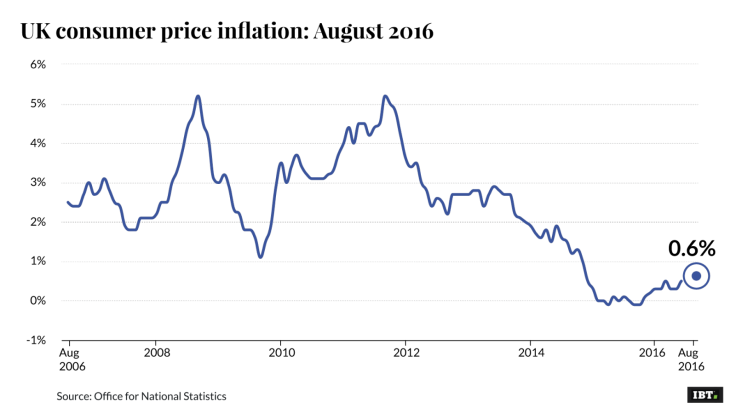 UK prices had started to edge higher in recent months but is still well below the Bank of England target of 2%.
The Bank has cut interest rates to a record low to try to cushion the economy from the effect of the Brexit vote.
Howard Archer, chief UK and European economist at IHS Global Insight, said the Bank's view was that consumer price inflation is set to head above 2% next year.
Archer added: "However, there is clearly an increased chance that the Bank of England will sit tight on interest rates in November given the current resilience of the economy, especially as the Monetary Policy Committee may well want to see what Chancellor Philip Hammond comes up with in the Autumn Statement."
The Chancellor is set to unveil the government's taxation, spending plans and the state of the UK economy in the Autumn Statement on 23 November.