New £5 note: Bank of England launches longer-lasting, polymer note
Note featuring a picture of Winston Churchill, will be harder to counterfeit and can last up to five years.
The Bank of England (BoE) has launched a new £5 note, which features the picture of Sir Winston Churchill and, for the first time in British history, is made out of polymer. The new fiver will be available at seven locations across London and at 12 others across the country, including Manchester, Birmingham, Leeds, Hull and Cardiff.
The BoE has indicated that the switch to longer-lasting notes will save approximately £100m, although the move could see shops and banks ending up with a bill of up to £236m as ATMs, vending machines and self-service machines will have to be recalibrated or replaced.
Northern Ireland introduced plastic notes in 1999, when Northern Bank – now known as Danske Bank – put two million notes in circulation to mark the new millennium. Plastic notes have been available since March last year in Scotland, albeit on a very limited basis.
Polymer notes, which are approximately 15% smaller than the current notes, are manufactured from a transparent plastic film and coated with an ink layer and are designed to last for approximately five years, compared with the 18-month shelf life of the current notes.
However, while the new banknotes will be cleaner and harder to counterfeit, they could, at least initially, being prone to stick together, meaning customers could inadvertently hand over more than they intend to.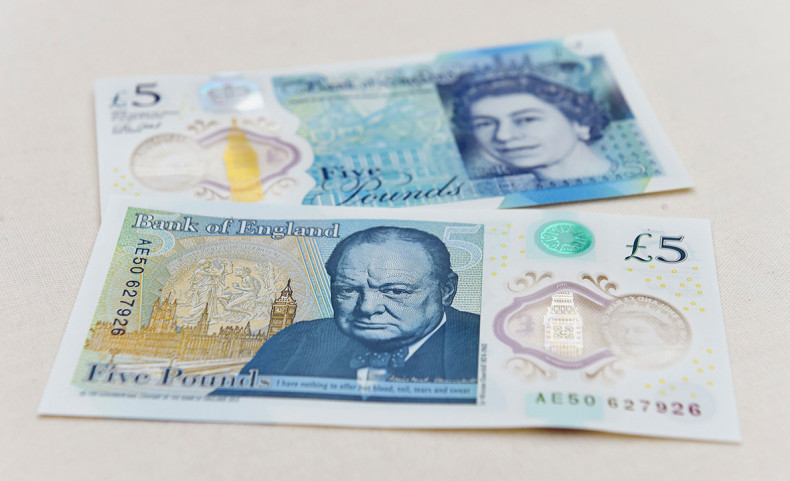 Polymer notes, introduced by Australia in 1988, are in use in over 30 countries across the world, including New Zealand, Canada, Fiji and Mexico.
"The new fiver commemorates one of the greatest statesmen of all time, Winston Churchill, who remarked that 'a nation that forgets its past has no future'," said governor Mark Carney.
"Banknotes are repositories of the United Kingdom's collective memory, and we will be reminded of Churchill's enormous contributions as he once again becomes part of our daily lives as the new fiver flows out into tills and pockets."
The old £5 bill, which carries a picture of social reformer Elizabeth Fry, will remain in circulation until next year but it will cease to be legal tender on 5 May 2017, the BoE said.