UK Inflation Plunges to Lowest Figure in 2023 At 4.6% as Sunak on Track to Meet Annual Target
In September, inflation stood at 6.7 per cent, as many people across the UK continue to struggle with the cost-of-living crisis.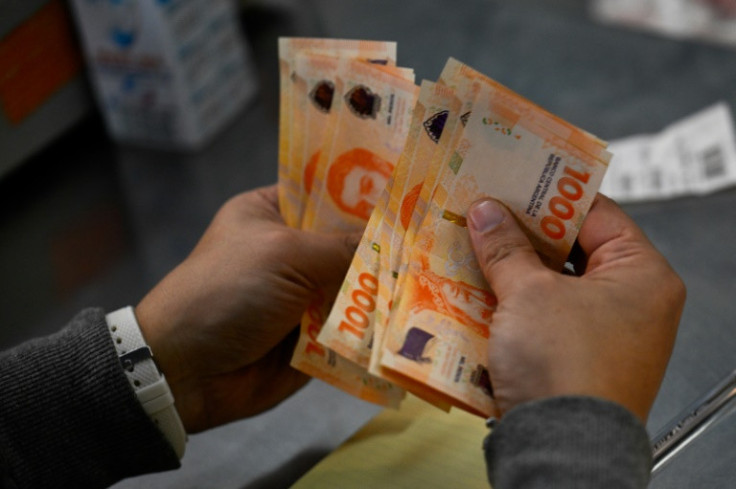 Inflation has plunged to 4.6 per cent, official figures released by the Office for National Statistics (ONS) show.
The data, released this morning, confirms the lowest rate of inflation for two years.
Although many forecasters had predicted a fall in the wake of lower energy and food costs, the decline is steeper than anticipated.
In September, inflation stood at 6.7 per cent, as many people across the UK continued to struggle with the cost-of-living crisis.
But since then, food and energy prices have fallen, offering a glimmer of good news for the country's economic outlook.
Core inflation, which does not include more volatile prices such as food and energy, also fell - it was recorded at 5.7 per cent.
Grant Fitzner, chief economist at the ONS, said: "Inflation fell substantially on the month as last year's steep rise in energy costs has been followed by a small reduction in the energy price cap this year."
The decline is also good news for Rishi Sunak, who is now on track to deliver his pledge of halving inflation by the end of the year, a promise he made when it was as high as 10.1 per cent.
In March, the Prime Minister unveiled a budget aimed at tackling a cost-of-living crisis - which has sparked strikes as many wages fail to keep pace.
The past year, soaring prices have caused a cost-of-living crisis to run rampant across the UK, with rising food and energy bills contributing to record-breaking inflation levels.
The Bank of England interest rate had stood at 0.1 per cent in December 2021, before inflation began to hamper business growth in the aftermath of the COVID-19 pandemic.
Commenting on the inflation data today, the prime minister said: "In January I made halving inflation this year my top priority... Today, we have delivered on that pledge."
However, it is important to assess the current situation with caution.
Despite the fall in energy costs, most households will likely be spending more on their bills as a result of less Government help.
The Energy Price Guarantee has been removed alongside the additional £66 per month that was taken off household bills last winter.
Last year, the average household was paying around £141 per month if they were on a direct debit plan.
Energy consultant Cornwall Insight forecasts predict that a household using the same amount of energy this winter would be paying around £160 per month – an extra £19.
And new data from Citizens Advice shows that the number of people who have been given crisis support, such as food bank referrals or energy top-ups, is higher so far this year than the same period last year.
It also says that people are arriving at its doors with a greater complexity of financial issues, rather than just one big problem.
Rocio Concha, director at the consumer group Which?, said: "While it's positive that inflation is falling, the cost of living is still increasing and consumers are paying significantly more for essential services."
She added the group's latest data suggested that 2.1 million households missed essential bill payments in one month alone.
Although the latest figures mark the steepest single-month decline in the consumer prices index (CPI) since 1992, it does not mean prices are going down, only that they are rising less rapidly.
Labour said the government should resist the urge to pop champagne corks after two years of rocketing prices that have left "working people worse off with higher mortgage bills, prices still rising in the shops and inflation twice as high as the Bank of England's target".
The Bank of England (BoE) held interest rates at 5.25 per cent for the second time in a row earlier this month, after 14 consecutive increases since the end of 2021.
The current base rate is the highest for 15 years.
The BoE said this month in its monetary policy report that the "main driver of the expected fall.... is a reduction in the Ofgem energy price cap, reflecting the decline in wholesale gas prices throughout 2023."
Nevertheless, the reading is expected to ease fears that the BoE will increase interest rates again this year, despite being more than twice its two per cent target.
© Copyright IBTimes 2023. All rights reserved.