October UK Retail Sales Drop Triggering Recession Worry in the UK Economy
UK retail sales growth declined in October as UK consumers are cautious of spending and saving for Christmas amidst the cost-of-living crisis which has sparked a recession for the UK economy.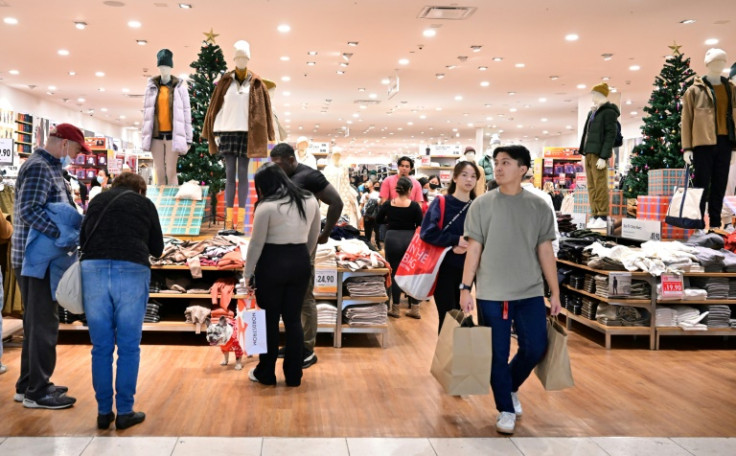 As the winter season kicks in, the UK economy is gripped by recession fears over a recent drop in retail sales.
A survey done by Barclays revealed that worried UK consumers are cutting down on spending to save for Christmas amidst rising energy bills and mortgages in the current cost-of-living crisis. While 37 per cent of people surveyed are spending less on Christmas gifts this year, 36 per cent expect 2023 Christmas will be more expensive than 2022 Christmas. Some 21 per cent are worried about costs in the festive season.
Barclays director Esme Harwood highlighted how UK consumers are cutting down on non-essential spending like clothes purchases and restaurant visits to save for Christmas shopping amidst the cost-of-living crisis.
The British Retail Consortium (BRC) and Barclays both reported that retail sales were down at shops and online outlets in October after inflation adjustments.
According to the Barclays survey, UK consumers have detected slack filling, a new form of shrinkflation where retailers are hiding empty spaces inside product packaging. Seven out of 10 UK consumers have noticed this.
"The unseasonably warm weather also hampered spending on indoor experiences, including digital streaming services and takeaways. However, pubs, bars and clubs still achieved strong growth, boosted by England's performance at the Rugby World Cup, while the travel sector benefited from a rise in holiday bookings," said Harwood
UK consumer card spending increased by 2.6 per cent in October which is slower than the 6.7 per cent inflation rate seen in the consumer price index, revealed the Barclays report. This is due to a decrease in non-essential spending as non-essential consumer card spending grew by two per cent while essential card spending grew by 3.9 per cent in October.
Meanwhile, the BRC-KPMG retail activity report showed that inflation-unadjusted retail sales were up by 2.5 per cent in October compared to the same period last year. Although the Bank of England lowered interest rates 14 times since December 2021 to tackle inflation, UK retailers are still facing as consumer confidence remains low. This has resulted in reduced retail sales which in turn is creating a fear that the UK economy could slide into recession.
Meanwhile, the BRC chief Helen Dickinson, said: "Retail sales growth slowed as high mortgage and rental costs further shook consumer confidence. Many households are also delaying their Christmas spending in the hopes they can grab a bargain in the upcoming Black Friday sales.
"The cost of living squeeze meant more was spent on lower-price indulgences, such as beauty products – the so-called 'lipstick effect'. Meanwhile, the arrival of some colder weather helped to boost fashion sales, particularly for outdoor wear."
Despite UK retailers lowering prices and streamlining operations to make Christmas affordable for UK customers, the £470m-a-year rise in business rates is hurting UK SMEs. Dickinson has asked the UK Chancellor Jeremy Hunt to freeze rates in the autumn statement to prevent retail prices from increasing.
This comes at a time when S&P Global and the Chartered Institute of Procurement and Supply (Cips) report highlighted that the UK real estate sector is suffering as the housebuilding segment is down for the 11th consecutive month.
All three categories in the UK real estate sector – infrastructure, housebuilding and commercial property were below the 50 level màrk which determines if the industry is growing or declining. However, the housebuilding sector has the lowest score of 38.5 in the S&P Global/Cips report.
The situation in the UK automobile sector also indicates a slowdown as the industry registered more big-ticket sales over private car sales, according to the Society of Motor Manufacturers and Traders figures. The fleet sales increased by 30 per cent in October compared to the same period last year but only 0.3 per cent of UK consumers bought cars. Private buyers in car sales were 62915 in October 2023.
Speaking about the dip in UK retail sales, KPMG retail head, Paul Martin said: "While consumers are now operating in a lower inflationary environment compared to October last year where inflation peaked at over 11 per cent, there is no doubt that the last 12 months have taken a toll on confidence and their ability to spend."
Martin further elaborated how the high-interest rate environment and the reduced cost savings after COVID-19 have made UK consumers cautious about spending. "The strong demand that has kept some retailers afloat over the last 18 months is now falling away," he added.
The Bank of England predicted last week that the UK economy will be flatlined in the second half of 2023. The third quarter is estimated to have zero growth with 0.1 percent in the last three months of the year. The official figures will be released by Threadneedle Street on Friday, November 10.
© Copyright IBTimes 2023. All rights reserved.