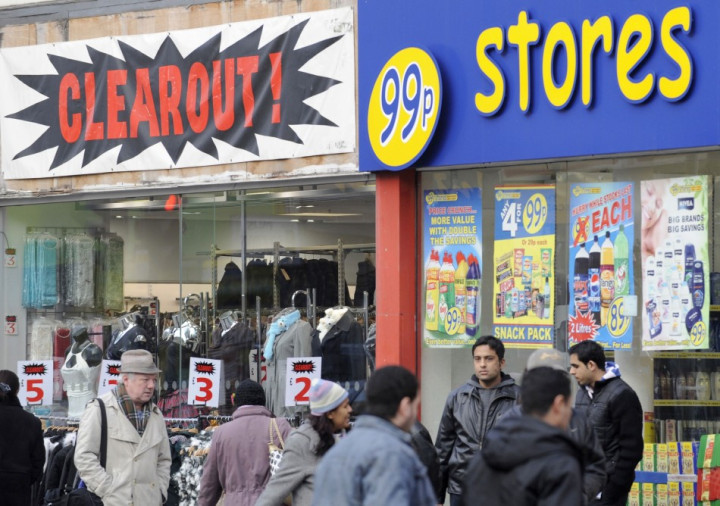 Britons are paying 45% more just to maintain a basic standard of living than they were a decade ago, as their wages plunge in real terms to similar levels as in 2002.
The research, carried out by the anti-poverty think tank Joseph Rowntree Foundation (JRF), studied prices in a basket of goods considered to be essential for the minimum standard of living, called the Minimum Income Standard (MIS).
JRF found that the poorest Britons are being hammered hardest in what is being dubbed a "living standards crisis". Since the financial crisis alone, the JRF said MIS prices were up 25%.
Office for National Statistics (ONS) figures show that real pay has fallen to similar levels as in 2002, though Consumer Price Index inflation has soared by 30%.
Not only have incomes been dragged down by falling wages, the government has trimmed its welfare spending under Chancellor George Osborne's austerity programme, leaving poorer Britons even more out of pocket. Child and housing benefit payments have been slashed, and annual benefits rises have been capped at 1% - a real terms cut.
Furthermore, official figures show the number of underemployed people - those not working as many hours as they need to - has rocketed by 1 million since the outbreak of the financial crisis.
"Our research shows that the spiralling cost of essentials is hurting low income families and damaging living standards ... Balancing weekly budgets has become an unenviable task for those who are worse off," said Katie Schmuecker, policy and research manager at JRF.
"Help for families in paying for essentials at more affordable prices can be just as important as improving household income - a precarious combination of rising costs and falling incomes leaves families in a risky position.
"Cuts to benefits and tax credits - especially cuts to support for childcare - combined with stagnant wages and the rising cost of essentials is resulting in an unprecedented erosion of living standards.
"If the government wants to help these struggling families, they have to make sure that different policies join up rather than contradict each other."
JRF's research found that in 2013, to reach an adequate standard of living a single person needs to earn £16,850, a working couple with two children £19,400 each, and a single parent £25,600.
It also found that over the five years from 2008, childcare costs have rose by 37%, social housing rents soared 26%, food costs lifted 24%, energy bills were up 39%, and public transport prices grew 30%.
The government says it is supporting families' incomes by lifting the personal allowance - the threshold at which an individual pays tax on their earnings - to £10,000 by 2015.
However, research by the Trades Union Congress (TUC) found that even with the personal allowance at £10,000 the poorest workers would be four times worse off because of the January 2011 increase in VAT to 20%.
"This [JRF] report reveals the true extent of Britain's living standards crisis. Hard-up families have seen their budgets squeezed far more than official figures suggest," said Frances O'Grady, TUC general secretary.
"No wonder people are being driven into the arms of pay day lenders and into relying upon food banks for charity. Low-income Britain has gone way beyond having to do without small luxuries - even basic necessities have become unaffordable.
"This research shows why Britain needs a pay rise. Unless we start to see real wage increases and decent welfare provision, consumer spending will remain weak and the economy will continue to struggle."
Around 500,000 people in the UK are estimated to be using food banks as they cannot afford to feed themselves.