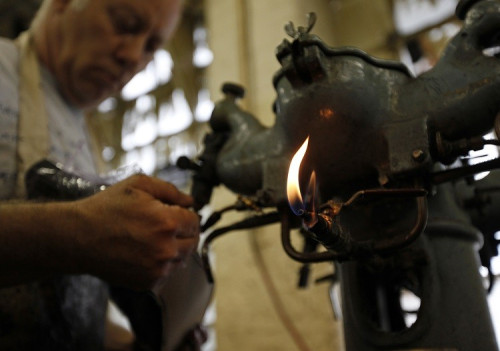 UK manufacturers closed 2013 with a ninth consecutive month of output growth as the UK and global recoveries strengthen.
The Markit purchasing managers index (PMI) for UK manufacturing hit 57.3 in December, a slight slowdown on the previous month but still a robust expansion of activity in the sector. Any number over 50 represents growth.
Britain's economy has steadily picked up along 2013, defying moribund growth forecasts and outperforming expectations. In the third quarter, UK GDP grew 0.8%.
"The domestic market remains resurgent and is a major factor driving production and new order inflows higher," said Rob Dobson, senior economist at survey compilers Markit.
"UK exporters are also finding pockets of strength, with sales of capital and intermediate goods rising solidly to destinations such as Brazil, China, Ireland, Russia and the USA."
Manufacturing output is still 9% below its pre-financial crisis peak. Dobson said the "question everyone wants answering is whether this upturn can develop into a self-sustaining recovery".
"The news is still good on this score, as growth is coming from a broad base that should help keep the rebound on track during the early stages of 2014," he added.
Average input prices rose at a faster rate in December because of higher commodities and raw materials costs.
Inflationary pressure is the "only area of concern" said David Noble, chief executive the Chartered Institute of Purchasing & Supply, which compiles the PMI surveys alongside Markit.
A separate warning by EEF, the manufacturers' organisation, said a rising cost of credit may hinder UK manufacturing's robust recovery from the post-financial crisis slump. Many more firms are looking to borrow to boost jobs and output.
EEF said in its quarterly credit conditions survey that the portion of businesses with no need to borrow fell to 40%, its lowest level since the report was started in 2007. However, the cost of credit rose to a balance of +11%, the highest reading since the end of 2012.
"The sector has made good strides forward since the start of 2013 and the positive end to the year points to a strong 2014 for manufacturers," said Mike Rigby, head of manufacturing at Barclays, on the latest PMI data.
"The main ingredients are in place, including stable FX rates, stable commodity prices, a recovering UK economy and a willingness from manufacturers to invest in R&D.
"If the sector continues to keep confidence and momentum up there's no reason why it can't outperform the UK economy in 2014."