Britain's new car registrations have increased for the 27<sup>th consecutive month, the longest ever period of growth in the country's new car market, as registrations increased 7.7% in May.
New car registrations increased 7.7% year-on-year in May to 194,032 units – the most in the month since 2004, according to the Society of Motor Manufacturers and Traders (SMMT).
For the year-to-date period, car registrations have crossed the one million mark, rising 11.6% to 1,058,974 units.
"The new car market has now grown in every month since March 2012 – the longest period of growth on record and a reflection of the UK's ever-improving economic conditions," Mike Hawes, SMMT Chief Executive, said in a statement.
"Over the past 27 months, increasingly confident consumers have been drawn to some fantastic new products, attracted by innovative technologies, improved fuel economy and competitive deals helping make a new car more affordable."
The previous longest period of consecutive monthly growth was between May 1987 and June 1989.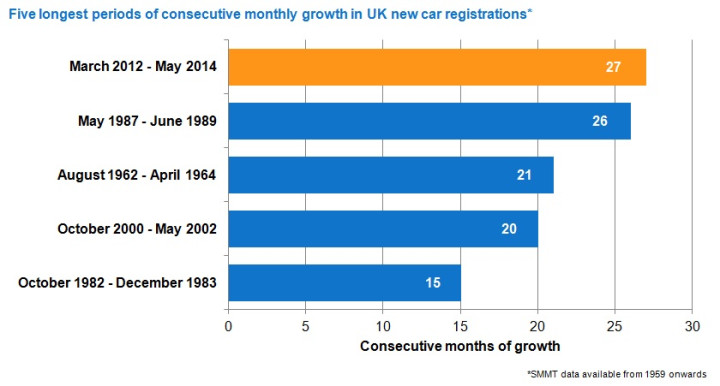 Ford Fiesta was the best selling model in May at 9,450 units, followed by Volkswagen Golf at 7,134 units and Vauxhall Corsa at 6,536 units.
Speaking about consumers' buying trends, SMMT said that motorists are demanding ever-increasing levels of style, comfort and functionality from their cars.
However, Hawes noted that car sales are likely to slow down in the coming months.
"With SMMT forecasting an overall rise of around 6% over the year, the coming months should see some levelling off in growth rates, as underlying demand stabilises," he added.