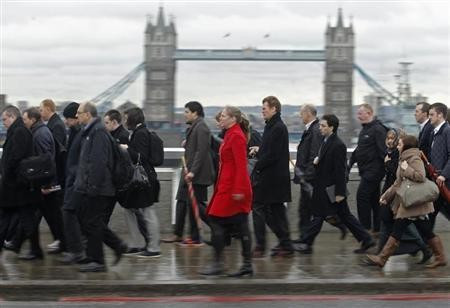 Pay awards to employees looking for a better deal sunk in April as the UK's battle with sluggish wage growth continues.
Human resources specialist XpertHR said that the median basic pay award in the three months to April was 2%, down from 2.5% in the first quarter.
One in ten employees' pay was frozen in the same period, with over half of these in not-for-profit firms. Despite the manufacturing sector's general decline, the median pay award here was higher at 2.1% than in the powerhouse service sector at 1.9%.
"2013 is shaping up to be another year of only modest pay awards, with employees in the public and not-for-profit sectors most likely to receive low, or no, pay awards," said Sheila Attwood of XpertHR.
"Employers have told us that their 'ability to pay' is the primary deciding factor when setting the level of pay increase, and with many still struggling with the prevailing economic climate, pay awards are subdued as a result."
Official wage growth data from the Office for National Statistics shows that real pay has tumbled to levels similar to those of a decade ago.
Wages have been far outpaced by price inflation, as the rising cost of living erodes any pay gains made by hard-pressed Britons struggling to keep afloat in the UK's economic storm.
In February, wages grew by just 1%, said the ONS, the slowest pace since records began in 2001.
Britons expect inflation to hit 3.5% again in the coming months. The Bank of England forecasts inflation to remain stuck above target until 2016, hitting 3% again.
Inflation hit a seven month low in April, at 2.4%, driven by falling fuel costs.