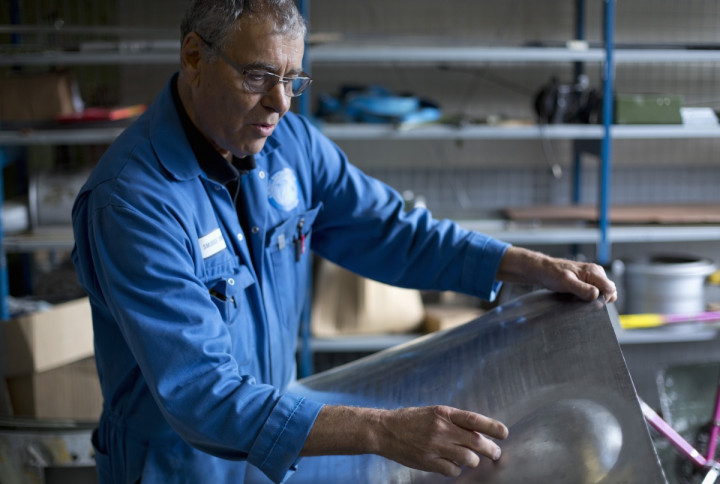 Strong Purchasing Managers' Index (PMI) data suggests the UK economy is set to grow 0.8% in the second quarter as job creation hit an all-time high, Markit Economics has said.
However, Markit added it was cautious about pricing in a hawkish turnout at the Bank of England (BoE) policy review on Thursday given the lack of upside pressure on prices.
Data on 4 June showed the May services PMI came in at 58.6, beating the market consensus of 58.2. The April reading was 58.7. Data in the last few days showed May manufacturing PMI at 57.0, in line with consensus, compared with 57.3 in April, while construction PMI dropping to 60 from 60.8.
All the readings are lower than the previous month's but above the 50 level that divides expansion from contraction. See the chart.
"The PMI readings for the second quarter so far point to gross domestic product expanding by 0.8% in the second quarter, identical to the increase seen in the first quarter. If borne out by official data, which will be published in late-July, the GDP increase would at last lift the economy above its pre-crisis peak, attained in the second quarter of 2008," Chris Williamson, chief economist at Markit, said.
PMI & BoE
The services PMI comes a day ahead of the BoE policy review and the market widely expects the central bank to sound more hawkish this time. Markit too expects some hawkish signals but it is cautious.
"Economic slack is notoriously hard to quantify, and the pace of growth of the UK economy and the speed with which jobs are being created will no doubt add to the belief among some Monetary Policy Committee members that an initial rate hike before the current projection of spring 2015 is warranted. On the other hand, other policymakers will note that price pressures remain subdued."
UK's consumer price based inflation quickened to 1.8% in May from 1.6% in April, but it has been below 2% so far this year. See the chart.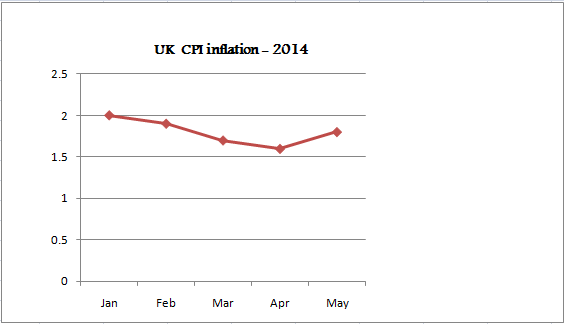 GBP/USD jumped from near 1.6700 to near 1.6740 following the data but the pair is broadly in a range as the market braces for the key US nonfarm payrolls after BoE.