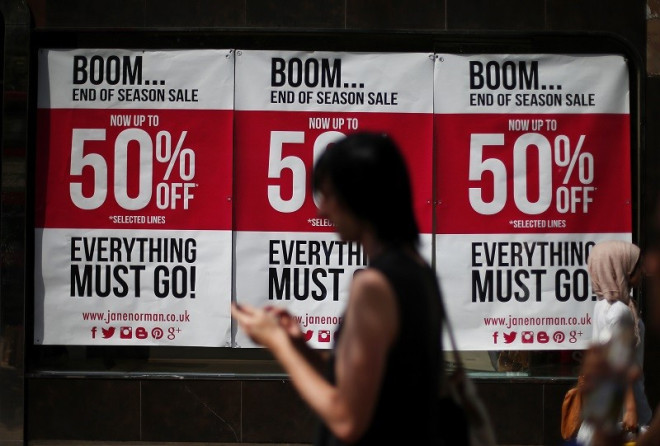 There are more encouraging noises from Britain's hard-pressed retail sector as the economy recovers.
Industry group the British Retail Consortium (BRC) said like-for-like sales were down 1.7% in March 2014 when compared with a year before. Total sales fell 0.3%.
But this drop is because Easter fell in March during 2013, whereas in 2014 the long weekend lands in April. The underlying picture is solid.
On a quarterly basis, the BRC said total retail sales lifted by 2.1% in the first three months of the year on an annual basis. Non-food sales were 4.2% higher
The recent squeeze on consumer incomes is easing as wages grow more quickly and price inflation falls.
Britain's GDP is set to grow by 2.9% in 2014, according to the International Monetary Fund (IMF), the fastest of any Western economy.
"Putting Easter distortions aside, the overall picture looks encouraging," said David McCorquodale, head of retail at business services firm KPMG.
"The long term trend shows that sales are moving in a positive direction, albeit it at a rate of 2.1% which is just above inflation.
"Sales of clothing and footwear fared well this month, helped by favourable weather. This is a very different picture to last year when cold weather depressed sales and fashion retailers had a dismal month."
McCorquodale highlighted the supermarket prices wars, with grocery giants discounting heavily, as an area of concern.
"Investors and analysts will be keeping a keen eye on the sector as they wait to see how these discounts will impact profits and performance, but the winner in this case will be the consumer," he said.
Easter and the school holidays should offer a bounce for retailers as long as the weather is good. The Met Office is forecasting several weeks of warm, sunny weather.
Two of the biggest strugglers on the high street in recent years are Mothercare and Marks & Spencer. But both have put out financial reports that suggest their troubles are easing – a good sign for the rest of the retail sector.