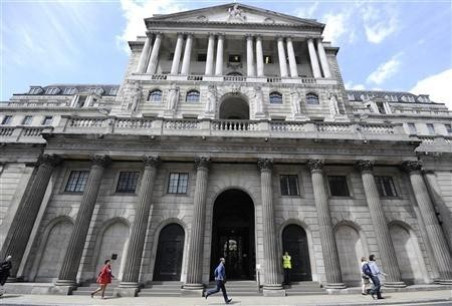 Lending to non-financial businesses and mortgage approvals both slumped in February despite the Bank of England's credit easing efforts under the Funding for Lending Scheme.
Despite this decline, lending to small and medium-sized enterprises (SMEs) in particular grew slightly across the month and consumer credit, such as loans and overdrafts, also lifted.
Bank of England figures show that lending to non-financial businesses dropped by £2.2bn in February on the month before, compared to the average fall over the past half year of £1.5bn.
Loans to SMEs were up by £100m in February, compared to a recent monthly average of a £700m decline.
Mortgage approvals for house purchases were down to 51,653, a sharp fall from January's 54,187 and below the six-month average of 52,395.
Consumer credit was up, however, by £600m in February. The average monthly increase over the past six months was £400m.
Since June 2012, the Bank of England, backed by the Treasury, has been trying to stimulate the flow of credit into the real economy through FLS.
Under FLS, banks are offered discount loans from the BoE to a value tied to their stock lending to SMEs and consumers. This, it was hoped, would offer a financial incentive for banks to increase their lending to these parts of the economy.
However, FLS appears to have only had an impact on the mortgage market, which has seen interest rates fall. There is little sign of any effect on SME lending, something for which the scheme was criticised for by MPs.
BoE policymakers have defended FLS, insisting it is still early in the scheme's life and that the decline in lending would have been worse in its absence.
---
Follow @shanecroucher