The Met Office has issued a severe weather warning for Saturday night, saying snow, ice and gale force winds could cause disruptions to travel over the weekend.
It has issued a yellow 'be aware' warning for 00.15am on Sunday until midday Monday for Scotland, Northern Ireland, Northern England and parts of the Midlands.
In Scotland, snow, sleet and hail showers are expected from around 1am, as well as strong winds.
The weather front will move south throughout Sunday, reaching Northern Ireland, Cumbria, parts of Yorkshire and the Midlands by 2pm.
The freezing temperatures and windy conditions will pose a danger to motorists, with icy stretches on the roads and reduced visibility throughout Sunday and into Monday morning's commute.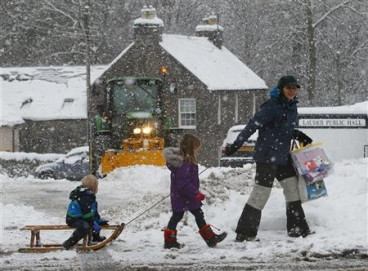 Up to 10cm of snow could fall on high ground before Monday lunctime, with 5cm likely on lower terrain in the north of the country, the Met Office has warned.
"Cold air will move south-east across the UK on Sunday following a frontal system. Within the cold air frequent showers will form and push into areas exposed to the strong west to north-westerly winds", the warning reads.
"These showers falling primarily as snow above around 250m with a mixture of hail, sleet and snow to lower levels.
"Accumulations of 2cm to 5cm of snow are possible around 250m, with some temporary slushy accumulations below this, and accumulations of 5cm to 10cm above 400m.
"Icy stretches in association with showers are also likely."
There will be a brief respite on Tuesday, but for Wednesday there is another yellow weather warning in place – this time for severe gales.
The Met Office is predicting gusts of up to 80mph, and warns of "significant disruption" due to falling trees. There could also be problems with travel and power supplies.