The first non-beating heart transplant has been performed by UK surgeons with a landmark procedure that could lead to a 25% increase in the number of donor hearts available.
Surgeons at the Papworth Hospital in Cambridgeshire performed the surgery on Huseyin Ulucan, 60, who had suffered a heart attack in 2008.
Stephen Large, the consultant surgeon who led the team, has spent over 10 years investigating transplants using hearts from non-beating donors for transplantation.
Organs from non-beating heart donors are currently used to provide kidneys, livers and lungs, but it has not – until now – been possible to use the heart over concerns the organ would be damaged.
Through Large's new technique, the heart is re-started five minutes after death and supplied with blood and nutrients at body temperature. The heart is then assessed for its safety and placed onto an organ care system to maintain its quality during transportation to the hospital.
Simon Messer, who was involved in the research, said: "Using techniques developed to recover the abdominal organs in non-heart beating donors, we wanted to apply similar techniques to hearts from these donors.
"Until this point we were only able to transplant organs from DBD (Donation After Brain-stem Death) donors. However, research conducted at Papworth allowed us to develop a new technique not used anywhere else in the world to ensure the best possible outcome for our patients using hearts from non-heart beating donors."
After the transplant, Ulucan spent just four days in the critical care unit and is now recovering well at home.
Steven Tsui, clinical director of transplantation at Papworth, said: "We are delighted by Mr Ulucan's progress following his heart transplant using a donor heart recovered using this new technique. His swift recovery is testament to the comprehensive research carried out at Papworth. We are hopeful that this procedure will, in the future, enable more hearts to be available to the many patients on the transplant waiting list."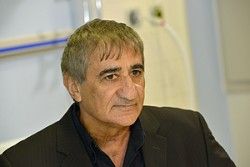 Large added: "Significant research has gone into finding new, safe ways to increase the number of lives we save using heart transplantation," he said. "The use of this group of donor hearts could increase heart transplantation by up to 25 per cent in the UK alone.
"This is a very exciting development. By enabling the safe use of this kind of donor hearts, we could significantly increase the total number of heart transplants each year, saving hundreds of lives.
James Neuberger, from the NHS Blood and Transplant, said: "We'd like to congratulate Papworth on their success and wish the patient a speedy recovery. The introduction of Papworth's programme using hearts from non-heart beating donors was based on years of tireless research and the use of novel technologies.
"Sadly there is a shortage of organs for transplant across the UK and patients die in need of an organ.
"We are immensely grateful to the donor's family and we hope they are taking great comfort in knowing that their relative's organs have saved lives and have also made an important contribution to heart transplantation in the UK. We also shouldn't forget the donor families who helped pave the way for the hospital's recent landmark transplantation."