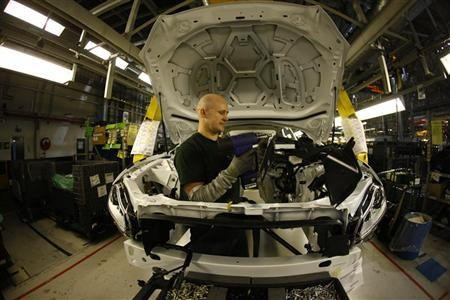 Britain's trade deficit narrowed sharply in July as the number of goods and services exports grew.
It is welcome news for the ailing economy and its finance minister, George Osborne, who is eyeing exports as a route to recovery, setting a goal of increasing their overall value to £1tn by the end of the decade.
The overall gap between imports and exports was £1.5bn in July, down from the previous month's £4.3bn, reported the Office for National Statistics.
Exports of goods to non-EU countries grew 11 percent to £13.2bn, driven by growth in oil, consumer goods, and semi-manufactured goods other than chemicals.
EU-destined exports of goods grew 7.7 percent to £12.5bn, while imports went up 1.1 percent to £16.8bn. This left a deficit of £4.3bn, down £700m on the month before.
Services trade saw a £5.6bn surplus in July. Exports of services were £15.6bn and imports were £10bn.
"It is now over 14 years since net trade in goods and services made a positive contribution to UK GDP," Colin Edwards, economist at the Centre for Economics and Business Research (CEBR).
"This serves to highlight where the UK could do more.
"Whether UK exports can make a significant contribution to economic growth in the future is likely to depend largely on how much of the demand in emerging economies the UK is able to capture.
"A summer of sport has seen the UK take centre stage, as a global audience of billions has been captivated by the athletic excellence on show. The London 2012 Olympics were in part hailed as an opportunity to promote the interests of UK businesses overseas.
"It remains to be seen whether UK Plc. will be able to harness this momentum, providing a legacy which includes a much needed improvement in the prospects for UK exports."