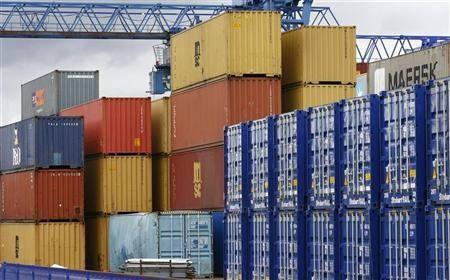 UK manufacturing output dropped in August by 1.1 percent compared to the month before as the country's gap between exports and imports widened for the worse, according to official data, pouring cold water on the hopes of a recovery for the recession-hit economy.
Growth forecasts for the UK economy have been slashed again by the International Monetary Fund (IMF), with the country struggling to lift itself out of a continued decline since the last quarter of 2011.
"There is some anecdotal evidence to suggest that some businesses had longer summer closures in August 2012, or that closures were held later than in previous years so that they affected August exclusively instead of being spread across July and August," said the Office for National Statistics (ONS).
Britain's trade deficit grew to £4.2bn in August, up sharply from July's £1.7bn as the level of goods imports far outpaced exports.
Chancellor George Osborne gave himself the target of increasing the value of UK exports to £1tn across the decade, but a troubled manufacturing sector is standing in the way of this ambition.
"While fragile global conditions suggest that robust export growth will not commence any time soon, improvements to the UK's international competitiveness would be welcome," said Osman Ismail of the Centre for Economics and Business Research.
"In particular, the securing of a wider export market share in emerging regions would be very beneficial to UK growth."
In the second quarter of 2012 the British economy contracted by 0.4 percent, with lost output from an extra day off for the workforce in celebration of the Queen's Diamond Jubilee weighing heavily on output.
Wet weather also hindered some parts of the service sector as June was blighted by record rainfall in some parts of the country.
Many economists expect the base effect and falling inflation to push the country back to growth in the third quarter, as the figures correct themselves from the anomalous lost output.
However they also point out that this is not indicative of a recovery, supported by the IMF's decision to slash its 2012 growth forecast for the UK economy from a 0.2 percent expansion to a 0.4 percent contraction.
Growth in the UK's powerhouse service sector, which accounts for around three quarters of GDP, slowed in September, according to private industry data, with similar measures for the construction and manufacturing sectors showing continued declines in both at the end of the third quarter.
---
Follow @shanecroucher