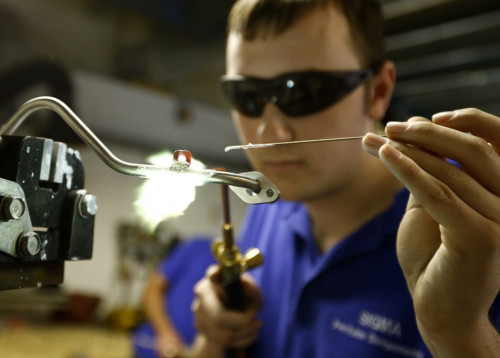 Britain's trade deficit in goods widened in the three months to November, said the Office for National Statistics.
The negative difference between the UK's exports and imports of goods hit £29.2bn over the period, an increase of £1.8bn on the previous three months.
This is despite rising external demand as economies across the world recover from the financial crisis.
Even troubled Europe, the UK's largest trading partner which was dragged into recession by the eurozone sovereign debt crisis, is seeing growth return.
Chancellor George Osborne had hoped for a trade-led recovery in the UK, but exports have remained sluggish despite a weaker sterling and government support schemes for trade finance.
UK Trade & Investment, the government department responsible for international trade, is targeting 19 priority markets outside of the EU to overcome the country's reliance on the continent.
However, Her Majesty's Revenue and Customs (HMRC) said UK exports to non-EU countries fell 6.3% to £12.5bn in November when compared with the month before.
Imports from non-EU countries also fell, by 3.8% to £16bn. Because exports fell at a faster rate than imports, the UK's trade gap expanded by 6.9%.
In his 2012 Budget, Osborne set a £1tn target value for UK exports by the end of the decade. But forecasts by the Office for Budget Responsibility (OBR), the Treasury's independent fiscal watchdog, show net UK trade staying flat over the coming years.
Despite weak goods exports, Britain's manufacturing sector has recovered across 2013. December saw the ninth consecutive month of output growth from UK manufacturers.
The Markit purchasing managers index (PMI) for UK manufacturing hit 57.3 in December, a slight slowdown on the previous month but still a robust expansion of activity in the sector. Any number over 50 represents growth.
"The domestic market remains resurgent and is a major factor driving production and new order inflows higher," said Rob Dobson, senior economist at survey compilers Markit.
"UK exporters are also finding pockets of strength, with sales of capital and intermediate goods rising solidly to destinations such as Brazil, China, Ireland, Russia and the USA."
Manufacturing output is still 9% below its pre-financial crisis peak. Dobson said the "question everyone wants answering is whether this upturn can develop into a self-sustaining recovery".
"The news is still good on this score, as growth is coming from a broad base that should help keep the rebound on track during the early stages of 2014," he added