There are 4.9 million people living in workless households in the UK according to the Office for National Statistics, the lowest number since the financial crisis took hold in 2008.
Furthermore the workless portion of all UK households with at least one person aged 16-64 dropped to 17.1% during the three months to June, from 17.9%, the lowest percentage since records began in 1996.
This is despite rising youth and long-term unemployment in the UK and a failing flagship government scheme to lift people off benefits and into work.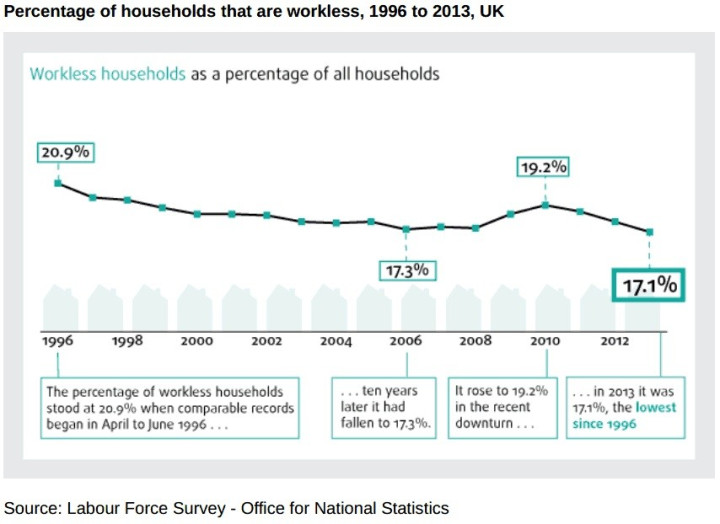 During the second quarter, the number of people out of work for more than a year lifted 7,000 on the quarter before, to 909,000. The number of youth unemployed rose by 15,000 to 973,000 across the same period.
There is a sharp regional disparity in the rates of workless households across the UK. In the South East region, the rate of workless households is well below the national average, at 13%. In the North East region, the worst affected area, this figure is 23%.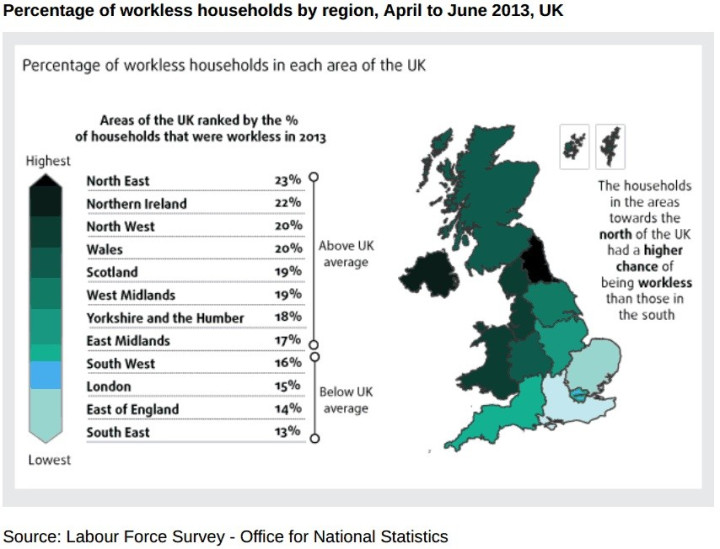 Work Programme
The Work Programme, a Department for Work and Pensions (DWP) scheme to train, educate and upskill the long-term unemployed so they can find employment, has been heavily criticised after it failed to meet its targets.
Under the Work Programme, private and third sector contractors are hired by the government to carry out the support work needed to lift people off welfare and into work.
Providers are then paid by results, depending on how successful they are at finding sustained employment for Work Programme participants.
However, MPs on two parliamentary select committees have said the scheme incentivises both "parking" and "creaming" of participants. The most difficult cases are parked and the easiest are creamed off as scheme providers chase easy payments.
This can leave the most vulnerable people, who need lots of time and money to help them into work, marginalised by providers.
Temporary jobs
A fall in the number of workless households does not necessarily point to a healthy labour market.
Research by the Trades Union Congress found that almost half of the rise in UK employment levels since 2010 was down to a surge in temporary jobs.
TUC analysis of official labour market data shows that 46% of the total rise in employment - or 86,000 workers - is from temporary positions. The number of involuntary temporary workers - those who want a permanent job - has shot up by 155% since 2005 to 655,000.
The Chartered Institute of Personnel and Development (CIPD) calculate that there are a million people on zero-hours contracts in the UK.
Under zero-hours arrangements, workers are given no contractual guarantee of working hours each week.