The blizzard conditions that have caused travel misery and power cuts in northern Britain are moving slowly southwards. The Met Office has issued a yellow warning for wind and snow across Scotland with gusts of up to 60mph and snow of between four and eight inches on higher ground. People in southern England and Wales can expect heavy rain with an increasing chance that higher areas will get some sleet and snow later in the day.
Gale-force winds left thousands without power in Scotland with the Forth Road Bridge between Edinburgh and Fife closed all day after a lorry was blown over. Lines of non-moving traffic were seen on the southbound carriageway of the M74 with drivers forced to wait while the roads were gritted. Snow fell steadily as lorries, vans and cars came to a standstill or moved slowly because of the bad weather.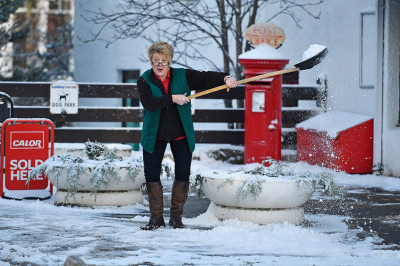 Heathrow Airport said it has cancelled 80 flights out of 1,350 as it prepares for forecasts for snow. Europe's busiest airport said that wintry weather would mean that fewer aircraft can take off and land at its two runways. Forecasters say the weather is caused by a polar air mass that originated over northern Canada.