People living in southern parts of the UK have been bracing themselves against Arctic conditions which had already swept across Scotland and northern England. On Wednesday (11 January), gale-force winds left thousands without power after 93m/ph winds battered parts of the UK, with the Forth Road Bridge between Edinburgh and Fife closed all day after a lorry was blown over.
The Met Office warned the cold and windy polar maritime air mass, which has swept over from northern Canada will continue to bring a "real taste of winter" across the UK.
Snow caused long jams on most major UK roads, with temperatures set to drop further through the night. More snow is expected to hit Scotland and the South East on Friday (12 January) morning.
Severe weather warnings for snow were issued across northern and western Scotland, Northern Ireland and most of the west coast of England as well as gales which could lead to blizzard conditions.
In the south and south-east of England, heavy and persistent rain turned to snow in some places but the weather led to severe flood warnings. Soldiers have been brought in to help with flood defences and the towns of Jaywick, Mistley, Manningtree, Colchester, and Mersea are being evacuated in anticipation of the flooding.
Dozens of seaside evacuations are underway following flooding threat from storms and high tides while some schools have been closed.
The Met Office warned daytime temperatures were likely to be around 2 to 5 °C, but will feel much colder because of the gale-force winds.
Frost and ice will develop in most places overnight, with some severe frost likely where there is snow on the ground in the north. Temperatures could dip below -10 °C over snow cover in rural areas. The British Army is on standby as the stormy weather is set to last for three days.
According to the Daily Mirror, 100 troops were dispatched to Skegness in Lincolnshire to assist with efforts to evacuate people from their homes in low-lying areas.
The Ministry of Defence said the 2nd Battalion the Yorkshire Regiment are assisting the Lincolnshire Police in warning and evacuating residents at Skegness."
Eastern England – including the low-lying coastal counties of Lincolnshire, Essex, Suffolk and Norfolk – are particularly at risk from gale force winds combined with high tides barrelling in from the North Sea.
Paul Gundersen, chief meteorologist had warned of the extreme weather, saying: "Most northern areas are very likely to see snow showers at times over the next few days, but the situation over the southern-half of England is more complicated.
"Southern counties of England and Wales can expect a cold and wet day with some heavy rain on Thursday, but there's an increasing chance this will turn to sleet or snow, especially over hills, during the afternoon and evening.
"There is a chance of snow settling bringing disruption to transport during the evening rush hour and possibly interruptions to power supplies, this more likely across East Anglia and southeast England. As skies clear on Thursday night it is likely to become icy in many areas.
"Forecasting snow is always challenging and there's often a fine line between whether it will rain or snow in a particular location depending on slight changes in air temperature. Keep an eye on the forecast and warnings for your area for the latest information."
London's Heathrow and Gatwick airports cancelled flights in preparation for the snow. Heathrow added on Twitter: "Wintry weather is expected at the airport today and airlines will be adjusting their schedules as a result.
"Check your flight status if travelling and allow more time to get to the airport. We are sorry for any disruption." The airport also tweeted that it had invested over £36m on winter and snow resilience since 2010.
Gatwick airport said: "Route restrictions have been put in place by Air Traffic Control which may cause some delays and cancellations to flights."
The weather will not be the issue for Southern Rail services which has warned that there will be no services due to ASLEF union's strike on Friday.
"In addition, Southern and Gatwick Express services will continue to be severely disrupted every day until further notice due to the ASLEF union's refusal for drivers to work overtime," the company said on its website.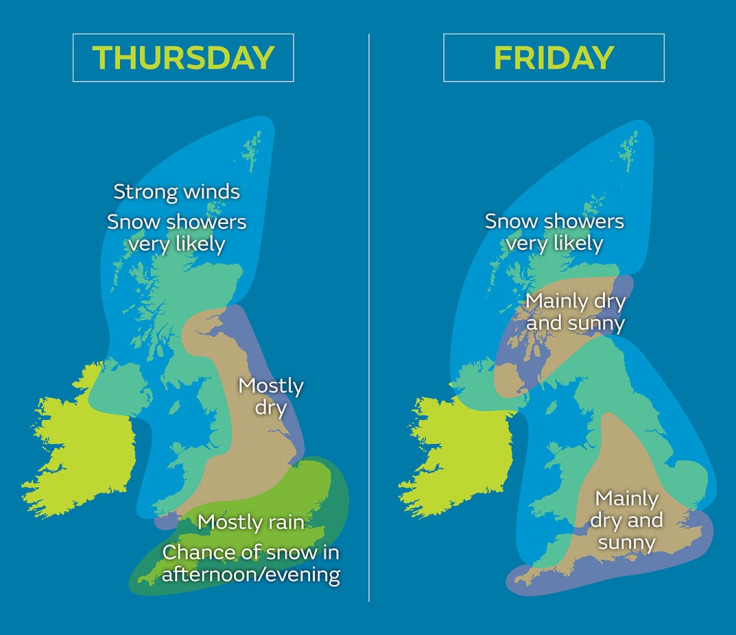 The government had previously advised people to take care in the wintry conditions over the next few days as temperatures drops.
Prof Paul Cosford, Director for Health Protection and Medical Director at Public Health England, said: "Think now about what you need to do to prepare: if you need vital medicine or food get it before the bad weather arrives. People with underlying health conditions, very young children and those aged over 65 are at greatest risk, so think what you can do to help others.
"Keeping your home heated to at least 18°C, wearing lots of thin layers instead of fewer thicker ones, and (if you have to head out) using footwear with a good grip are all ways to deal with this weather and stay well this winter.
"It's most likely the snow will impact people in northern counties first, before spreading southwards across England. So the most important things we can all do is to keep warm, keep a close eye on the weather forecasts and think about what you can do to prepare and help others."
Regions affected by Yellow warnings for snow:
Central, Tayside & Fife, East Midlands, East of England, Grampian, Highlands & Eilean Siar, London & South East England, North East England, North West England, Northern Ireland, Orkney & Shetland, SW Scotland, Lothian Borders, South West England, Strathclyde, Wales, West Midlands, Yorkshire & Humber