Gay Rights Group Wary of Ukip's Influence on Conservatives
Gay rights campaigners are "keeping an eye on Nigel Farage", as Ukip's influence on the government grows.
There was no mention of gay marriage in the Queen's Speech yesterday, even though it was in the Conservatives' 2010 election manifesto and David Cameron has battled hard on the issue against faith groups and his own MPs.
But now a new vow of omerta on gay marriage could be be part of a shift to the right by the Conservatives.
Cameron's stance on gay marriage was blamed as one reason why Ukip collected one in every four votes cast in last week's county elections.
Included in this week's Queen's Speech was a raft of measures to appeal to centre right voters, including tough measures for immigrants.
They were seen as a bid to woo back voters who abandoned the Tories for Ukip, which has vowed to cut immigration - and opposes gay marriage.
Gay rights group Outrage said Cameron would be foolish to cave in to pressure to ape Farage, after Ukip's sensational poll showing.
"Keep an eye on him," spokesman David Allinson told IBTimes UK of Farage.
"Nothing is remarkable in politics, least of all a lack of commitment by politicians - and they (Tories) are disturbed by the Ukip result.
"The Tory blue rinse brigade have opposed every piece of equality legislation and they are pandering now (to Ukip).
"The population is more broad-minded than Nigel Farage on so many issues He is appealing to the same sort of people whom Nick Griffin used to gain support from."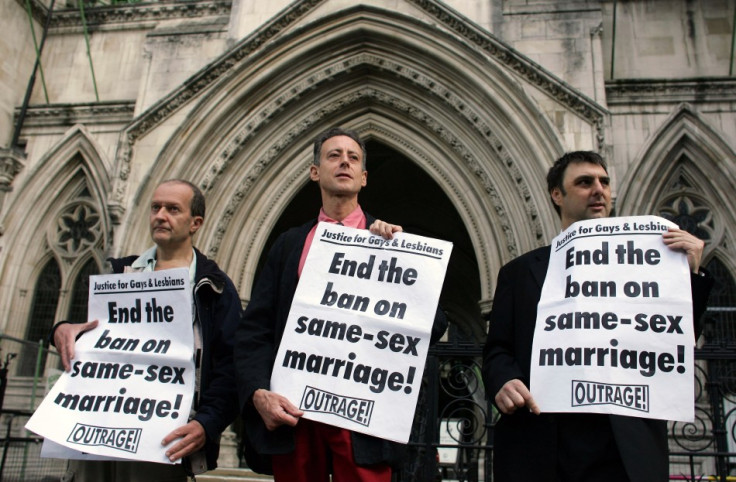 A government spokesman said the gay marriage bill - which is working its way through parliament, is an "an issue of conscience."
"There is no change in the position," he told The Standard.
Ukip is currently enjoying its new-found status in British politics, after winning nearly 150 seats in last week's elections.
Spokesman Thomas Booker told IBTimes UK: "We are doing more without a single MP than the Liberal Democrats are.
"People come to us because they, the parties, are not saying what they think. They vote for us because we reflect their ideas.
"The power of the public voting for us has made the parties sit up and take notice and I do not think that's a bad thing."
Booker rejected fears Ukip's influence was partly based on a far-right element of its support base.
"People who are trying to make comparisons with the BNP are making claims with no evidence - it's just speculation. And there's no evidence," he insisted.
Booker, who leads Ukip's LGBT wing, said the party objected to gay marriage only on the grounds it could lead to faith groups being forced against their will to marry gay couples.
© Copyright IBTimes 2023. All rights reserved.