Ukraine Crisis: Mariupol City Hall 'Liberated' by Government Forces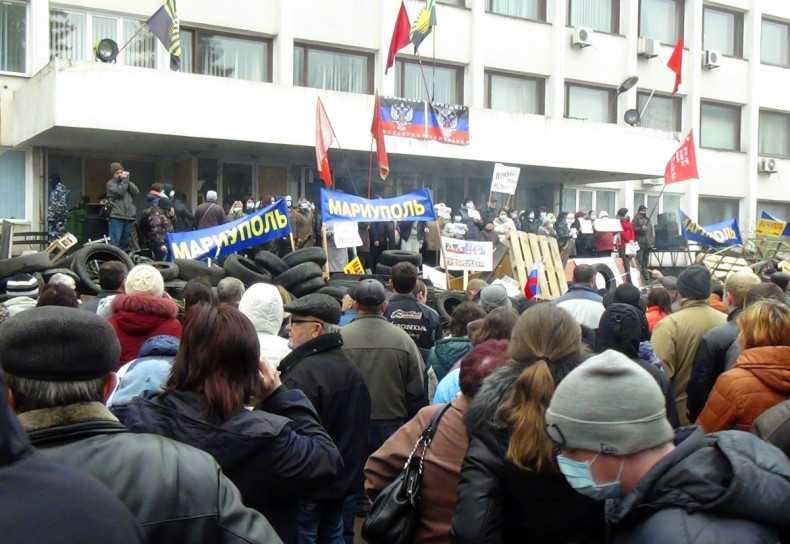 Ukrainian government forces have regained control of the Mariupol city hall from pro-Russian separatists in the eastern port city.
Five people were injured in the successful night operation to remove separatists from the City Council building on the Sea of Azov in the Donetsk region, according to Ukrainian Interior Minister Arsen Avakov.
Government buildings have been sieged and overrun by pro-Russian separatists in numerous towns in eastern Ukraine.
Negotiations are now under way between the separatists and the local police and pro-Ukrianian authorities.
Avakov also revealed that Ukrainian troops thwarted an attempt by tens of pro-Russian militants to capture a weapons cache from a military unit in the Donetsk town of Artemivsk.
Three pro-Russian separatists were killed by Ukrainian forces when attempting to raid a base in Mariupol last week.
Russian Foreign Minister Sergei Lavrov has said that the US is "running the show" in Ukraine just a day after US Vice President Joe Biden visited Kiev.
"There is no reason not to believe that the Americans are running the show," he told Russia Today.
He said that Russia would respond to developments in the region in line with international law if "the interests of Russians have been attacked directly."
US President Barack Obama responded in a press conference on his visit to Japan, saying that Russia had breached a deal signed in Geneva last week which agreed that the armed protesters would leave the seized buildings and return home.
US troops have started to arrive in Poland for military exercises to allay Nato allies' fears about Russian movements in the region.