Ukraine Crisis: European Union Urges Russia to End Kidnappings and Killings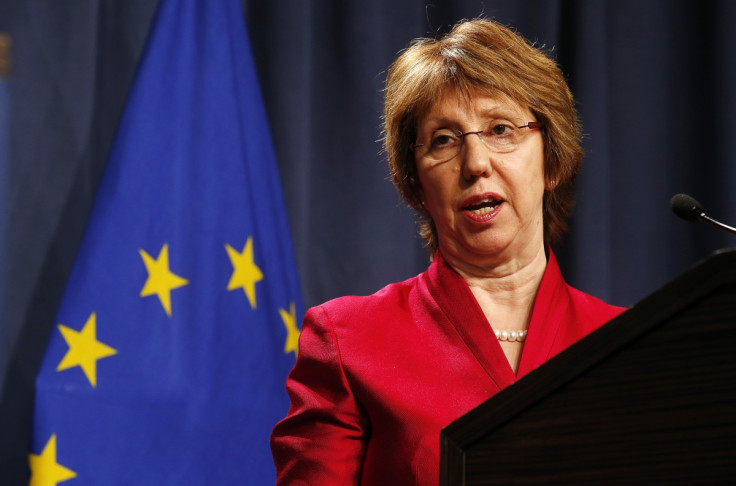 The European Union has demanded that Russia use its leverage in eastern Ukraine to bring an end to a series of kidnappings and killings in the region.
"We call on all parties to the joint Geneva statement on Ukraine to ensure its terms are fully implemented, and in particular on Russia to use its leverage to ensure an immediate end to kidnappings and killings in eastern Ukraine," Michael Mann, a spokesman for EU foreign policy chief Catherine Ashton said.
The call for Russian involvement comes after the reported death of a local politician from interim President Oleksander Turchinov's party, Volodymyr Rybak, and the kidnapping of News journalist Simon Ostrovsky.
Ostrovsky, a reporter for Vice, was being detained at the local branch of the Ukrainian security service, which was seized by pro-Russian insurgents, according to spokeswoman for the group Stella Khorosheva.
The journalist was taken hostage because he was "suspected of bad activities" according to Khorosheva.
The European body has expressed concern over the increasing seriousness of rebel actions in Ukraine's east and has called for an investigation.
Both Washington and Kiev claim that pro-Russian militiamen are receiving orders from Russia, something which Moscow disputes.
Russian Foreign Minister Sergei Lavrov has said that the US is "running the show" in Ukraine just a day after US Vice President Joe Biden visited Kiev.
"There is no reason not to believe that the Americans are running the show," he told Russia Today.
He said that Russia would respond to developments in the region in line with international law if "the interests of Russians have been attacked directly."
© Copyright IBTimes 2023. All rights reserved.