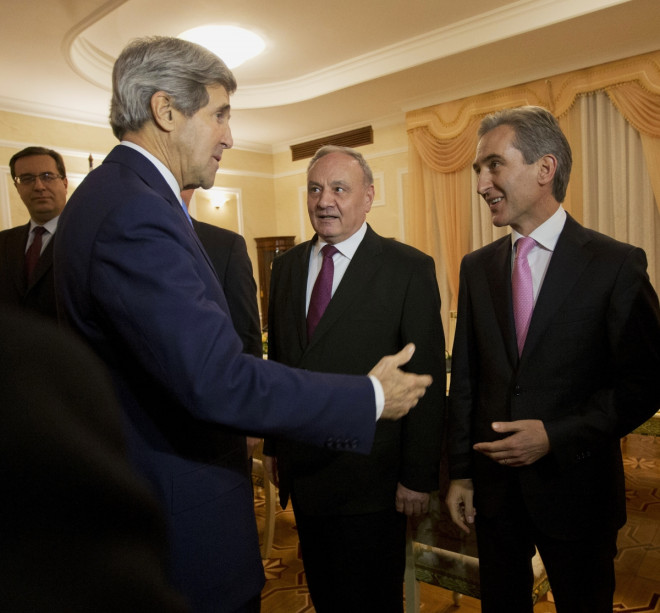 Nato's top military chief has warned that Russia has amassed a "very sizeable" force on the eastern Ukrainian border, which could easily annex Russian-speaking Transnistria.
"There is absolutely sufficient force postured on the eastern border of Ukraine to run to Transnistria if the decision was made to do that, and that is very worrisome," said Nato's Supreme Allied Commander Europe, US Air Force General Philip Breedlove.
"The [Russian] force that is at the Ukrainian border now to the east is very, very sizeable and very, very ready," he said.
Russian troops have seized three military bases in Crimea following President Vladimir Putin's annexation of the Russian-dominated region.
There are now concerns that Putin has set his sights on another area with a prominent Russian-speaking population, Transnistria.
The majority of the half-million residents in Transnistria, which lies on Ukraine's western border, speak Russian and approximately 30% are ethnic Russian. The separatist region declared independence from Moldova in 1990 but is not recognised by any United Nations member.
Moldovan President Nicolae Timofti has warned Russia against considering a move to annex the Transnistria region, while the speaker of Transnistria's parliament has requested that Russia annex the region.
US House Intelligence Committee Chairman Mike Rogers has warned that Putin "is not done in Ukraine".
"He goes to bed at night thinking of Peter the Great and wakes up thinking of Stalin," Rogers told NBC.
"We need to be a little bit tougher with Putin or he is going to continue to take territory to fulfil what he believes is rightfully Russia," he added.
If Russia was to annex Transnistria there would seemingly be no need for a vote after 97% chose to join Russia in a 2006 referendum. However, Russia does not officially recognise Transnistria at present.
As part of an international 1992 ceasefire agreement between Moldova and Transnistria, Russia has the right to station 2,400 troops in the region.