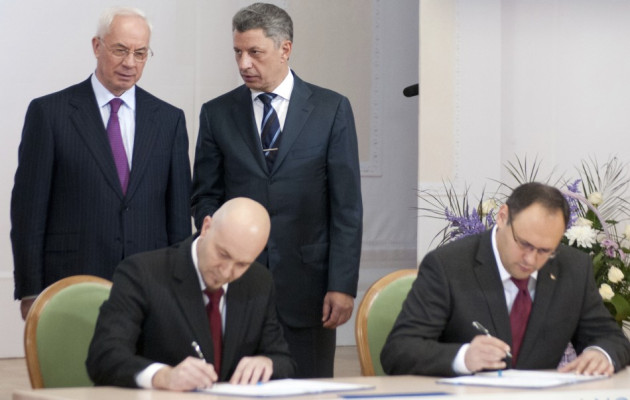 Government officials in the Ukraine have admitted the country signed a fake $1.1bn gas terminal deal after it thought it a negotiated a contract with a representative from Spain's Gas Natural Fenosa (GNF).
Vladislav Kaskiv, head of Ukraine's state investment agency, signed what he and his colleagues thought was an agreement with GNF to build a liquefied natural gas terminal on the country's Black Sea coast in Kiev earlier this week. Prime Minister Mykola Azarov and country's energy minister attended the signing with a man they thought represented Barcelona-based GNF.
GNF, however, which has operations in more than 25 countries around the world but no presence in the Ukraine, denied the deal - or anything like it - had taken place.
After first identifying a GNF executive the company insisted had not even travelled to Kiev, Ukrainian officials said they had signed an agreement with a man named Jordi Sarda Bonvehi, according to Reuters.
"He (Bonvehi) was organising the visit of (GNF) representatives. Unfortunately, for technical reasons, company representatives did not come. He expected the company would (later) confirm his powers (to sign the contract)," the official, Vitaly Demyanyuk, explained to the news agency.
GNF told Reuters in an emailed statement that it had no intention of making any deals in the country.
"Gas Natural Fenosa is sending a formal notice to the person who, according to media reports, seems to have claimed to represent the company at an event that took place in Kiev last Monday" (26 November), the company said. "This person does not represent the company, therefore Gas Natural Fenosa reserves the right to take such legal action as may be appropriate once the details of the situation have been clarified."
GNF was not immediately available for comment when contacted by IBTimes UK.
Ukraine relies primarily on Russia for its gas supply needs, which it receives through a major pipeline. However, the level of reliance has led to repeated friction between the two countries and has included major disputes over pricing, illegal siphoning and even threats from Moscow that it would shut off supply.
Earlier this month, Ukraine said it is on target to import 27.7bn cubic meters of gas from Russia this year and Naftogaz revealed in June it had intended to buy 27 billion cubic meters of gas from Russia in 2013, but later reduced the figure to 24.5 billion cubic meters.