Russian broadcaster Andrei Lunev suffered severe head and lower extremity wounds when he stepped on a landmine in Ukraine.
The accident happened when Lunev walked through the ruins of Shyrokyne, which has been the focus of heavy artillery and mortar fire.
The journalist "was examining the ruins, and then tripped a trip wire, the explosion followed. The journalist was seriously wounded, with head and lower limbs injured," stated a local media report.
Lunev, who works for the Zvezda TV Channel, known for its pro-Putin stance, was apparently not wearing a bulletproof vest.
The journalist who is said to be from Donetsk received first-aid treatment at the scene, according to a Mail Online report.
Russian media stated that Lunev was taken to hospital in Novoazovsk near the Russian border, where he later regained consciousness.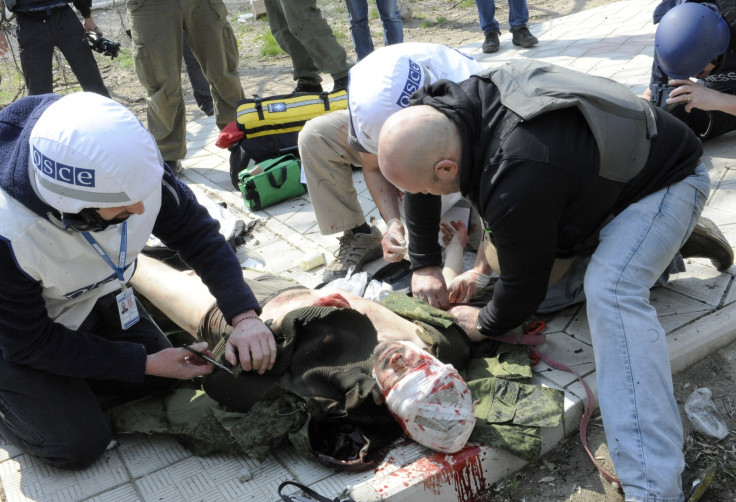 Heavy shelling was heard in Donetsk on late Monday evening and in the early hours on Tuesday.
Ukrainian military spokesman Andriy Lysenko told a press briefing that six troops were killed and 12 wounded in a 24-hour period, while rebels reported one fighter dead and five wounded in the overnight clashes.
The death toll is the highest since the February cease-fire was signed.
Lysenko also reported civilian casualties, including two teenagers who were wounded in shelling in the Horlivka area, north of Donetsk.
OSCE Special Monitoring Mission Ambassador Ertugrul Apakan, expressed his concerns at the resumed violence in the eastern Ukrainian town of Shyrokyne on 12 April.
According to the OSCE monitor, the renewed fighting followed three days of calm in Shyrokyne facilitated by the SMM, which allowed monitors to re-enter the village on April 9 and April 10 to assess the humanitarian needs of local residents.
"The SMM monitors had observed and recorded severe destruction in the town, as well as the presence of vast amounts of unexploded ordnance," Apakan said.
On Saturday evening the OSCE monitors heard the sound of renewed engagement between forces in Berdianske and Shyrokyne, according to Apakan.
"While fighting in Shyrokyne stopped again after three hours Saturday night, new and heavy fighting broke out today [Sunday] in and around Donetsk airport. SMM monitors are present to observe the developments and will report accordingly," he said.
He added that he regretted that the so-called "Donetsk People's Republic" forces had prevented SMM monitors from entering Shyrokyne earlier on Saturday and on Sunday.
Apakan called upon all sides to honour the commitments undertaken under the Minsk agreements. "Our hope is of course for a long-lasting and comprehensive ceasefire that will bring an end to the spiral of violence that has destroyed so many lives and infrastructure," he said.