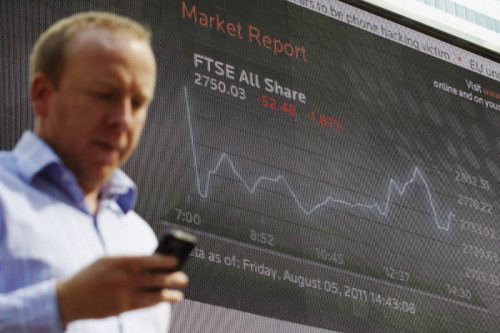 A cocktail of improving economies across the world will prove a potent elixir at the dawn of 2014 for long-downtrodden UK markets, according to a City analyst.
Mike van Dulken, head of research at Accendo Markets, said improving global conditions point to a decent start of the FTSE's year.
"US data continues to boost optimism in a global economic recovery. The cash crunch in China has eased, even if concerns linger and hard landing worries have receded. Japan is set to keep its stimulus taps open. The UK is doing rather well and Europe remains helpfully calm," he said.
"From what I am reading across the press, hearing and seeing on the charts, general positive sentiment from late 2013 appears to be setting markets up for a bullish start in 2014.
"On the FTSE100 we are already closing in fast on the 6820 end-October highs. Could we see 6875 May highs and then 6940 all-time highs in Jan, with global recovery optimism helping reverse the 2013 underperformance of peers derived from a lack of direct UK exposure (which benefited the FTSE250)? We'll find out soon enough."
UK growth has accelerated across the first three quarters of 2013 – from 0.3% in the first to 0.8% in the third – in a faster-than-expected improvement of the domestic economy.
Officials in the UK Treasury hope this is the long-awaited recovery phase from the post financial crisis slump after several years of flat growth and recession.
The UK's key exports markets are also picking up.
The International Monetary Fund (IMF) hiked its 2014 growth forecasts for the US economy on the back of falling unemployment, rising consumer sentiment, and better output.
China is engaged in a series of economic reforms to improve the quality of its GDP growth, such as stripping back bureaucracy and cracking down on corruption by ruling Communist Party officials and corporations.
Premier Li Keqiang has pledged "appropriate liquidity" for Chinese financial markets after credit conditions were tight in 2013.
In Europe, the eurozone currency bloc remains troubled, but out of recession and appears to be stable.
An agreement by European finance ministers has almost secured a banking union across the eurozone, which creates a framework for winding down failing banks without the chaos and taxpayer bailouts of the past.
The deal is subject to approval by the European Parliament in 2014 and should offer markets some reassurance that the worst of the eurozone crisis is behind them.