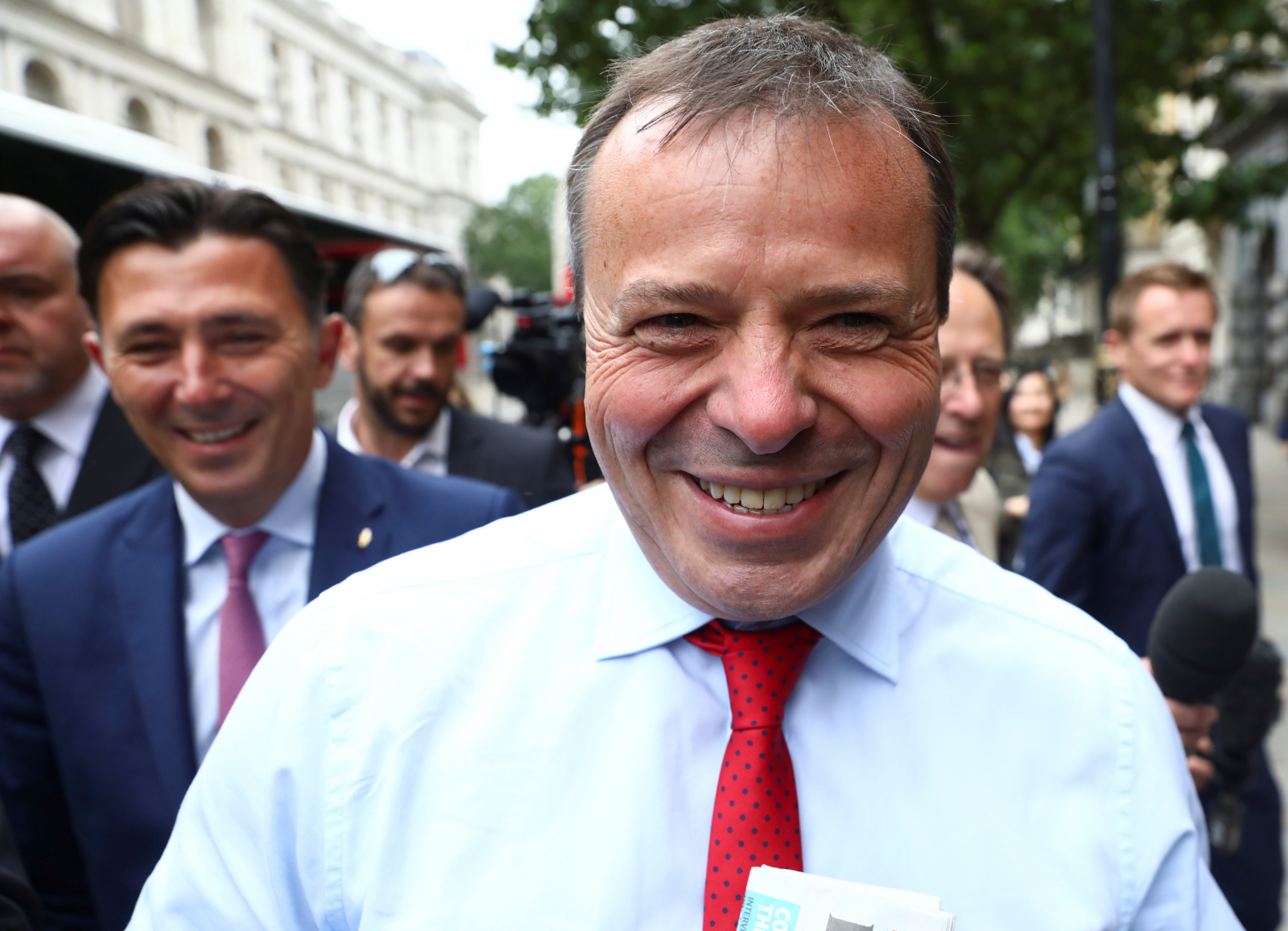 A millionaire backer of the successful campaign to pull Britain out of the European Union on Tuesday lashed out at lawmakers investigating fake news surrounding the Brexit referendum, arguing he was being discredited because of his political views.
Arron Banks heatedly suggested he was being targeted in a witch hunt by those in politics and the media who favoured remaining in the 28-nation bloc. In nearly three hours of testimony, the insurance tycoon also rejected the notion that he had dealings with the Kremlin — though he did acknowledge socializing with the Russian ambassador over a boozy lunch.
"I'd like to think I'm an evil genius with a white cat that kind of controls the whole of western democracy," he said. "But clearly that's nonsense."
He insisted that no money from his overseas business interests formed part of his political donations — and that he was crystal clear on the rules.
"You have a vested interest in trying to discredit the Brexit campaign," he said.
Banks had at first rejected the committee's invitation to appear, but changed his mind after the Sunday Times newspaper reported that he had had more contacts with Russian officials than were previously acknowledged.
The Times reported that Banks had held three meetings with Russian Ambassador Alexander Yakovenko. One of the meetings was a November 2016 lunch three days after Banks visited Donald Trump, then president-elect, along with Farage and another prominent Brexit campaigner, Andy Wigmore.
Banks and Wigmore, who was also testifying before the committee Tuesday, acknowledged that they handed the telephone numbers of the Trump transition team to the Russians after their visit to Trump Tower.
The newspaper said its journalists saw emails that showed Banks discussed a potential business deal involving six Russian gold mines, though he repeated his denials that anything came of the offers.
Banks helped bankroll Leave.EU, the campaign backed by Nigel Farage, the former chairman of the U.K. Independence Party who pressured the British government to hold a referendum on EU membership. The group operated separately from the official Vote Leave campaign.
The committee was questioning Banks amid its probe into the scandal surrounding the data analytics consultancy, Cambridge Analytica.
Earlier this year, it took testimony from former employee Christopher Wylie, who alleged the company used data from tens of millions of Facebook accounts to help U.S. President Donald Trump's 2016 election campaign. Wylie said the Brexit campaign also had access to the Facebook data.
Another former Cambridge Analytica employee, Brittany Kaiser, alleged data gathered by Banks' insurance company was used in the referendum campaign.
Banks dismissed their statements, suggesting they were "Walter Mitty-type characters" — a reference to a fictional character who daydreams of personal triumphs.