Mystery clouds UK's most expensive home – who owns the £63m flat and why does it keep going on sale?
Companies House records suggest used-car magnate Geoffrey Warren owns the apartment at One Hyde Park.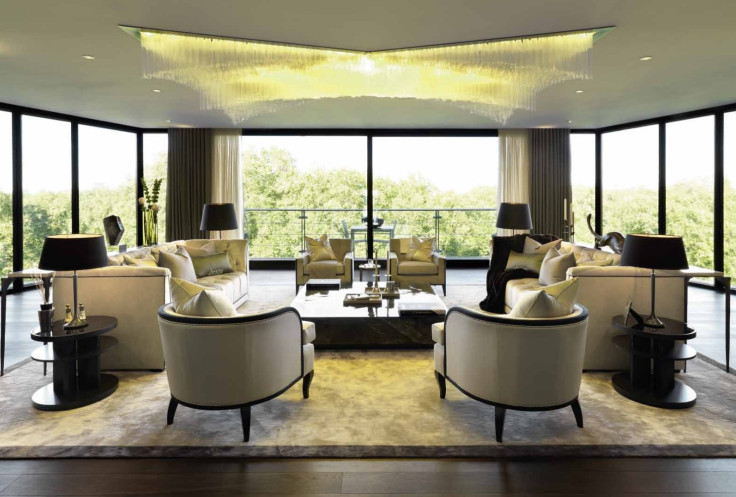 Apartment C.08.1 in London's luxury One Hyde Park development by Candy & Candy – the most valuable block of flats in the world – came with a price tag of almost £63m ($83m), making it the most expensive home on the open market in the UK.
But it has just been removed from sale for the fourth time in four years, apparently still unsold, as the super-prime property market feels the heat from a number of tax increases by the Treasury.
Sprawling for nearly 9,000 square foot across a whole floor of the building, Apartment C.08.1 has views over Hyde Park, all the highest quality fixtures, fittings and finishing, high-tech gadgets, a concierge service provided by The Mandarin Oriental Hotel, a gym, swimming pool and spa, opulent bespoke interior design by Candy & Candy, and much more.
The current owner, thought to be the used-car magnate Geoffrey Michael Warren, has tried to sell it at least four times since 2012, slashing the price tag by £2m along the way.
The property's agent at Savills in Knightsbridge was contacted for comment on 22 August, while the apartment was still listed as for sale, but did not reply. However, in the 24 hours between the approach for comment and the publication of this article, the property was again removed from the market. The listing has not, as is common when a sale is agreed but the paperwork incomplete, been updated to mark the property as "sold subject to contract" or "under offer".
"I'm afraid we are not able to help," said a spokeswoman for Savills when asked if the property had now sold. Warren, 61, was approached for comment via his company Cargiant, but no reply was received.
"I think the super-prime end of the market has been going down in terms of values for almost two years," said Caspar Harvard-Walls, a partner at the buying agent Black Brick. "A lot of people are laying the blame at Brexit's door, but really the market had shifted before that."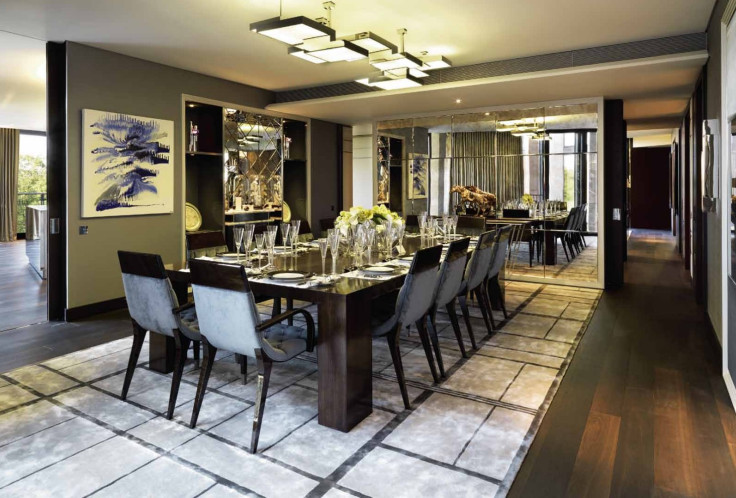 It is a series of tax hikes on high-end and investment property – such as higher stamp duty for expensive and second homes, the introduction of capital gains tax for foreign investors, and an annual levy on homes owned by offshore structures – which are the biggest drag on demand.
Moreover, a glut in the supply of luxury newbuild property in London makes One Hyde Park less unique that it once was. "All of those things have had a big impact on that end of the market," Harvard-Walls said. "As a result, you probably will see some of these properties hanging around for much longer than they would have done a few years ago."
The market for super-prime properties is tiny: there have been just three sales of properties in England and Wales worth over £20m in 2016 so far, show Land Registry figures. Between 2011 and today, there have been 36 such sales. By comparison, in the year to date there have been 350,252 home sales in total in England and Wales.
Finding the bite mark
Apartment C.08.1 was first put up for sale by the current owner through the agent Aylesford International in May 2012 with a price tag of £65m, but later removed from the market, despite some high-profile media coverage on MailOnline and Forbes.
The apartment reappeared on the market in May 2014, this time listed by Savills and for a price tag of £68m. Again, it was removed from the market — only to pop back up a year later in June 2015, listed at £75m and including a promise to pay the buyer's potential £9m stamp duty bill after a tax hike by the then-chancellor George Osborne.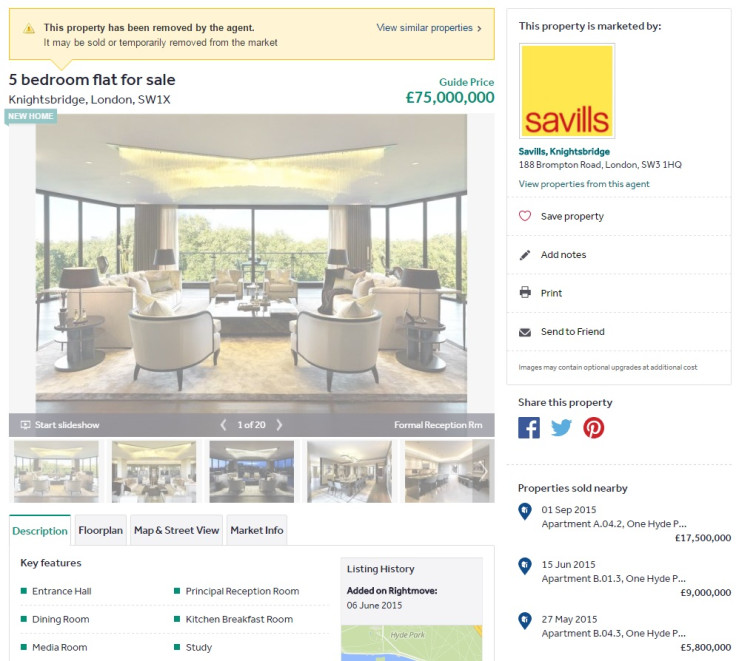 Having been removed from the market again, it was in April 2016 relisted by Savills for one pound shy of £63m – 3% lower than its 2012 asking price, 7% below is 2014 price, and 16% below the 2015 price including stamp duty. The promise to pay the buyer's stamp duty has since vanished – and so has the latest advert.
"Values have come down and transactions have fallen so therefore sellers are having to be more realistic," Harvard-Walls said. "These things are rare. That's why they're very, very hard to value."
"Markets ebb and flow," said Anthony Payne, managing director of LonRes, a London-focused property market data firm. "But you always have to find the bite mark. We have had a quiet time since 2014, the market has been on the slide since then. But what you need to do is get to that point where people think, at that price, there's value there."
Despite the uncertainty, the vote for Brexit in the 23 June referendum offers some hope to the super-prime market: sterling's sharp fall in value against the dollar may offer a currency incentive to prospective foreign buyers, though it would be a gamble on the pound's current level being its floor. Brexit may also induce asking price cuts that lead to more deals being done.
"I think if anything, Brexit has actually loosened the market a little bit," Payne said. He added that there are few forced sellers in the super-prime market, which means property owners can hold out for longer to get the price they want. However, Brexit is making sellers realise that in order to transact they must be "a little more elastic with the price".
Who owns Apartment C.08.1?
According to Land Registry filings, Apartment C.08.1 is legally owned by Cannon Nominees Limited and Cannon Nominees Properties Limited, two shell firms operated by Macfarlanes, a legal services company that boasts of its "reputation for solving our clients' most complex legal issues".
But Companies House filings suggest the beneficial owner of the property could be Geoffrey Michael Warren, owner of Cargiant, which claims to be London's largest used car dealership. Warren is estimated to be worth £450m, according to the Sunday Times Rich List 2016, making him the 255th richest person in the UK. His wealth grew £50m over the year.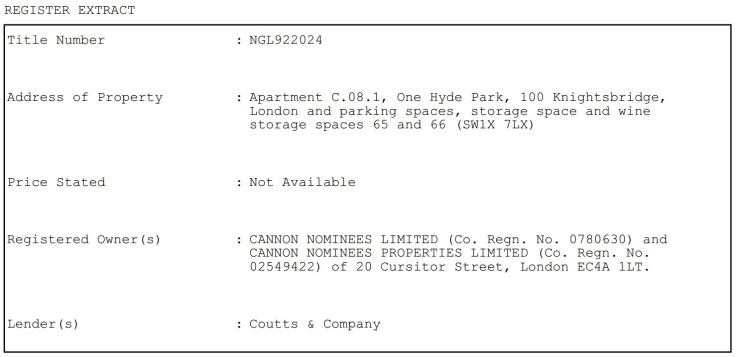 Cargiant forecasts a £50m pre-tax profit in the 2015-16 financial year. The company is also planning to develop the 46 acres it owns at Old Oak Park in west London, where it is headquartered, in a £5bn project to deliver 6,500 new homes as well as schools, commercial space, and a broader regeneration of the area.
Warren, whose cousin is the boxing promoter Frank Warren, is listed on two of three charges made against Apartment C.08.1 by Cannon Nominees Properties Limited: the first in October 2011, the second in March 2012, and the third in July 2016. A charge is made against a property asset when a borrower uses it as security for a loan from a bank. Warren is named in the 2011 and 2016 charges.
On 14 July, 2016, a legal mortgage was taken out over Apartment C.08.1 and a charge registered by Cannon Nominees Properties Limited on the following day. Listed on the registration documents as the debtor is Warren, whose address is given as that of Cargiant's head office in NW10. His bank is Coutts. The mortgagor is listed as the two Cannon companies, which are the legal owners of the apartment.
"A legal mortgage transfers ownership of the asset to the mortgagee [bank] so it cannot be sold to a third party without the mortgage being released and ownership being transferred back to the mortgagor," according to a definition by the law firm Pinsent Masons.
A spokeswoman for Macfarlanes was asked to clarify its relationship with the property and Warren, but she said the firm never comments on client matters.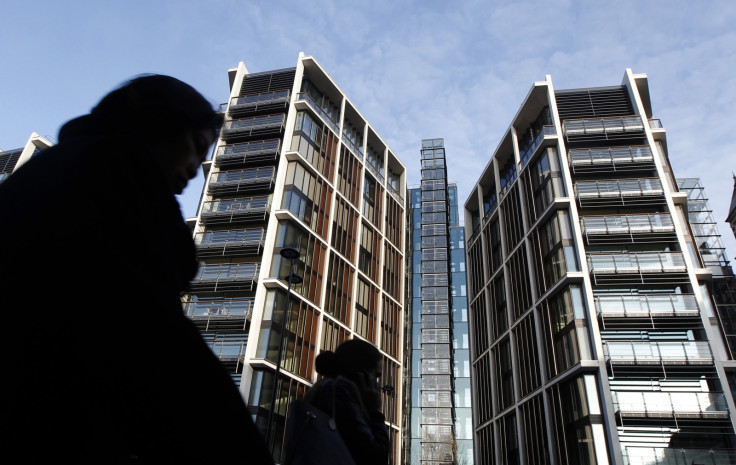 One Hyde Park, completed in 2008, has 86 luxury apartments spread across four 'pavilions' in the heart of Knightsbridge. Depending on the size of the property, the annual service charge for the building can run into six figures. Two penthouses in One Hyde Park have reportedly both sold for £140m in the past, one in 2010 and one in 2014.
Backed by Qatari money, the project was developed by the Candy brothers, Nick and Christian, who both own apartments in One Hyde Park and whose flashy lifestyles are tabloid fodder. Nick Candy is married to Holly Valance, the Australian actress and singer.
The brothers are mired in a court case against former friend and business associate Mark Holyoake, whose lawyers accuse Nick of masking his wealth for the purpose of tax evasion. However, the Candy brothers reject all accusations of wrongdoing and the court case is ongoing.
© Copyright IBTimes 2023. All rights reserved.