There is some good news for the older iPhone users, as renowned iOS researcher and hacker MuscleNerd has confirmed that the new Ultrasn0w v1.2.8 release on Cydia supports iOS 6.1 on eligible devices with supported baseband. The list of supported devices with basebands include iPhone 4 on baseband 01.59.00, iPhone 3G/3GS on basebands 04.26.08, 05.11.07, 0.5.12.01, 05.13.04 or 06.15.00.
MuscleNerd in his latest Twitter update, had this to say: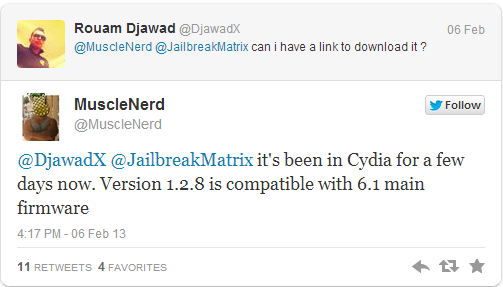 As iDownloadBlog notes, the demand for unlocking iPhone devices is fast diminishing, owing to the recent change in Digital Millenium Copyright Act (DMCA) policy, which ruled that unlocking iPhones is illegal.
Lifting the exemption for unlocking, the DMCA ruling stated that: "CTIA-The Wireless Association ("CTIA"), a trade association comprised of various commercial wireless service providers, objected to the proposals as drafted. Overall, CTIA maintained that an exemption for unlocking is not necessary because "the largest nationwide carriers . . . have liberal, publicly available unlocking policies," and because unlocked phones are "freely available from third party providers - many at low prices."
Despite the hassles with DMCA and diminishing demand for unlocking devices, older iPhone users are still dependent on carrier unlocking tools for a hassle-free access to free third-party services.
For iPhone's baseband, go to Settings > General > About > Modem Firmware. Users are advised to ensure that they don't accidentally update their device's baseband during iOS 6.1 firmware update. iOS 6.1 firmware can now be upgraded on older iPhones (while preserving the baseband) using the latest version of Redsn0w. To do so, launch Redsn0w, click Extras > Even More > Tap Restore and choose not to upgrade BB.
IBTimes UK will soon post a step-by-step guide (Mac and Windows) to preserve your baseband for device unlock while upgrading to iOS 6.1. So, stay tuned