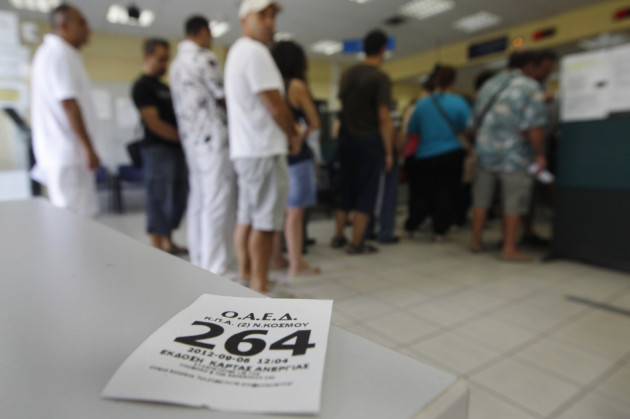 Eurozone unemployment rose to a record last month as the region's economy continued to slow in the face of the on-going debt crisis.
The jobless rate rose to 11.7 percent in October, Europe's official statistics agency Eurostat said Friday, as another 173,000 people lost their jobs in the deepening recession. The headline unemployment rate is up 0.1 percent from last month and nearly 2 percent from October of last year and means that more than 19 million Europeans are looking for work. Austria recorded the lowest rate at 4.3 percent while Spain's official reading of 26.2 percent was the highest of any country within the single currency.
"We believe that the euro area ongoing adjustment will continue to translate into a worsening of labour market conditions and further increases in the unemployment rate," wrote Barclays' economists Apolline Menut and Francois Cabau in a client note. "With labour market reforms across Euro area countries likely to flourish over the next few quarters, we would not be surprised by a step-up in unemployment due to enhanced labour market flexibility."
The figures provide further evidence of the weakening prospects for growth in the Eurozone this year and next and come just hours after a bigger-than-expected fall in German retail spending last month. Consumer sales in Europe's biggest economy - as measured by the Federal Statistics Agency's retail indicator - were down 2.8 percent from September and nearly a full percent from October of last year.
Speaking at an event in Paris hosted by France's Economy Ministry, ECB President Mario Draghi warned the Eurozone remained "in crisis" but that he expected a regional recovery to being in the second half of next year.
"The crisis has made one thing absolutely clear: large imbalances within the euro area can become a fundamental issue for the stability of economic and monetary union," Draghi said during a conference in Paris with top financial officials," Draghi said during prepared remarks. "It is inevitable that a union of sovereign states can become fragile, to say the least, if some states are permanent creditors and others are permanent debtors," Draghi said, noting that there were signs of improvement in reducing imbalances."
Earlier in the day, Draghi told Europe 1 Radio that "we have not yet emerged from the crisis ... the recovery for most of the Eurozone will certainly begin in the second half of 2013."
The Eurozone economy contracted by 0.1 percent in the three months ending in September. Economists predict a deeper 0.3 percent slump in the final quarter of the year. The ECB will also publish a new round of so-called "staff projections" next week, outlining its assumption for growth and inflation in the coming year. In its previous release, published in September, the ECB predicted growth of around 0.5 percent for 2013 with inflation slowing to a pace of 1.9 percent.
In a separate report, Eurostat said the cost of living eased to 2.2 percent in November from a previously measured 2.5 percent in October, increasing speculation that the European Central Bank may reduce its key lending rate when it meets in Frankfurt next week. The refinancing rate sits at a record low 0.5 percent.
The slowing inflation, some analysts have argued, could lead to a rate shift by the ECB when it meets next week. However, Societe Generale economist James Nixon said in a note to clients published Friday that "we expect the ECB to keep rates at the status quo, preferring to save their last bullet until absolutely necessary. This should mean that the ECB president repeats his consistent message again that the initiative rests firmly with national governments."