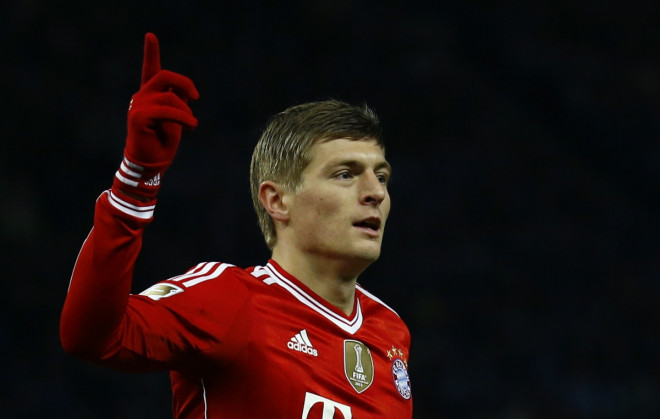 Manchester United's hopes of signing Toni Kroos have suffered a huge setback as reports in Spain claimed the Bayern Munich star has offered himself to Real Madrid.
The 24-year-old midfielder has entered the final 15 months of his contract at the Allianz Arena and the negotiations over a renewal have reportedly stalled.
Bayern are trying to convince him to stay but Spanish newspaper El Confidencial claims that Kroos' agents are already working in another direction and they have offered Real Madrid officials the chance to sign him either this summer or the following one, once his contract at the Allianz expires.
El Confidencial claims that Kroos's negotiations over a new contract with Bayern are extremely turbulent, with the player asking for a pay-rise from his current £4m a year to £10m.
The Spanish newspaper said that Bayern have no intention of selling Kroos even if he rejects the opportunity to commit his future to the club, but at the same time they are concerned about the idea of keeping an unhappy player.
Meanwhile, El Confidencial adds that even though Real Madrid don't want a battle with Bayern, they are considering his signing as they see Kroos as the perfect long-term replacement for Xabi Alonso.
At the same time, Manchester United retain an active interest the situation as David Moyes has reportedly earmarked Kroos as his main summer target.
After signing playmaker Juan Mata during the January transfer window, the boss is planning a huge overhaul of his squad in the summer and Kroos is leading a short-list of candidates that also includes former United star Paul Pogba, Borussia Dortmund's Ilkay Gundogan and La Liga sensation Koke.
Nevertheless, Bayern Munich chairman Karl-Heinz Rummenigge recently insisted the midfielder will remain at the club next season.
"Toni Kroos is sure to play in a Bayern Munich shirt next year as well" Rummenigge said.