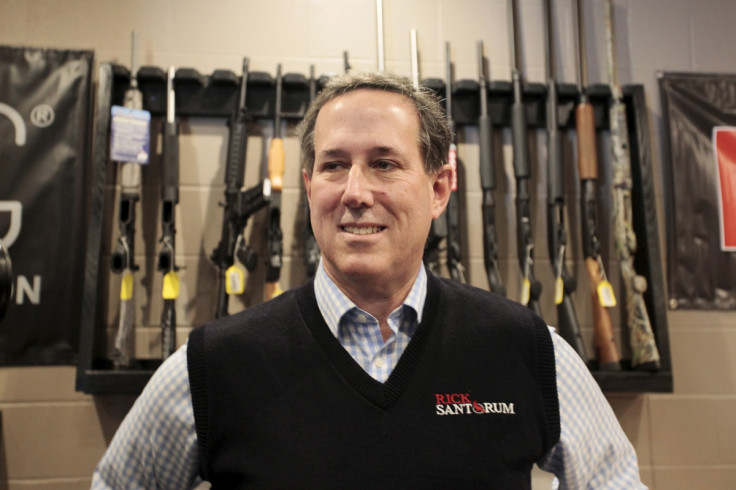 The Iowa Caucus is expected to trim down the number of candidates, particularly in the crowded Republican field. The last two caucus winners – Rick Santorum and fellow Grand Old Party (GOP) hopeful Mike Huckabee – have denied they will drop out, but things are not looking good for either candidate.
Rick Santorum
Four years ago, former Pennsylvania Senator Santorum defeated Mitt Romney by a few votes. However, he has failed to gain traction as outspoken real estate mogul Donald Trump holds strong as the party frontrunner. A night before the caucuses, and without conceding his imminent defeat, Santorum held a final campaign event with volunteers, friends, family and supporters.
"It has been an honour. It really has," the former senator said. "I hope we have another opportunity, but my guess is that when we come in on Air Force One, we're not going to have these types of deals because we're going to have a country to run." His supporters did not appear to buy it, according to CNN.
Despite poor polling numbers in the Hawkeye State, Santorum has vowed to remain in the Republican presidential race until at least through the South Carolina GOP primary on 20 February, The Des Moines Register reported. "I think we have a pretty good story to tell Iowans who voted for us for years ago, and if it ain't broke, don't fix it," the 2012 Iowa Caucus winner said, while noting that many Iowa caucusgoers have said they are either undecided or could change their votes.
The latest poll by the state's biggest newspaper – The Des Moines Register – found Santorum is heading into the caucus with only 2% support among Iowans.
Mike Huckabee
The 2008 winner of the GOP caucus has also failed to gain any traction this election season, falling behind Trump and other candidates attempting to nab the top stop. Like Santorum, the former Arkansas governor is unwilling to step down from the race. "I'm not getting out of the race," Huckabee told a group of around 150 people on 31 January. "I'm staying in and I'm going to do great tomorrow night and keep going and win the White House."
According to The Des Moines Register, Huckabee also denied rumours that he plans on endorsing Trump after Fox News previously reported that the embattled candidate was planning to back the GOP frontrunner. The former governor said he believes those rumours are being filed by other campaigns.
"There are clear efforts being made by some who are saying a vote for me or Rick Santorum is a wasted vote," he said. "That's nonsense. It's an insult to the voters of Iowa to tell them if they vote their convictions…that they've wasted their vote." Huckabee also noted, like Santorum, that there are many Iowans who have not decided who they plan to support in the caucuses.
The latest poll by the newspaper revealed that 45% of caucusgoers could change their minds before voting. The same poll also showed Huckabee only holds 2% support among likely Republican Iowa caucusgoers.