US Healthcare Worker Tests Positive for Ebola
Employee who cared for the first US Ebola victim at Dallas hospital tests positive for virus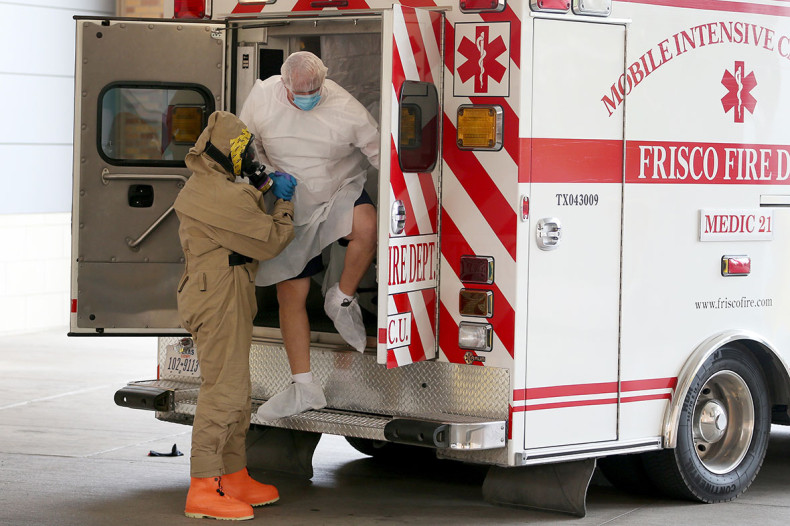 A healthcare worker in Texas who cared for a US man who died of Ebola after travelling from Liberia, has tested positive for the virus after initial tests.
The unnamed healthcare employee worked at Texas Health Presbyterian Hospital in Dallas, where Thomas Duncan died on Wednesday after contracting the Ebola virus following a visit to Liberia.
A statement posted on the Texas Department of State Health Service's website on Sunday said: "Confirmatory testing will be conducted by the Centers for Disease Control and Prevention in Atlanta."
Officials say the health care worker reported a low grade fever on Friday night and was isolated and referred for testing. Preliminary test results were received late Saturday, according to an AP report.
Dr David Lakey, commissioner of the Texas Department of State Health Services, said in a statement Sunday morning: "We knew a second case could be a reality, and we've been preparing for this possibility. We are broadening our team in Dallas and working with extreme diligence to prevent further spread."
If confirmed by the CDC, the healthcare worker would become the second person to contract Ebola in the US.
The World Health Organization estimates more than 8,300 people have contracted Ebola during the current outbreak, and more than 4,000 people have died.
Three West African countries – Sierra Leone, Guinea and Liberia – have been hardest hit.
Like the UK, the US announced this week that it would begin screening people entering the US through five airports across the country: John F Kennedy and Newark airports in New York, Chicago's O'Hare, Washington Dulles and Hartsfield-Jackson Atlanta International.