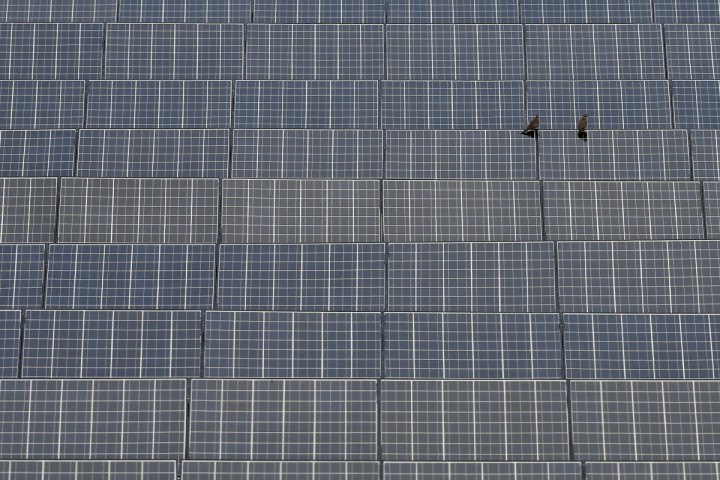 The US has imposed anti-dumping duties on solar imports from China and Taiwan after the country's commerce department found the cheaper rates for the imported solar panels and cells are hurting America's domestic industry.
The US set anti-dumping duties from 26% to 165.04% on imports of crystalline silicon solar PV cells and modules from China and Taiwan, in addition to anti-subsidy levies imposed in June.
Trina Solar got the lowest preliminary anti-dumping rate at 26.33%. Other companies including market leaders Yingli, Canadian Solar and Hanwha SolarOne were assessed at a 42.33% anti-dumping duty rate.
The highest rates are reserved for companies that did not cooperate with the department's investigation.
Taiwanese producers face anti-dumping duties of up to 44.18%, with Motech Industries set to pay the highest rate.
The commerce department is scheduled to announce its final determinations on or about 16 December.
In 2013, US imported solar products worth $1.5bn (£883m, €1.1bn) from China, declining to half the level of 2011.
Imports from Taiwan more than doubled to $657m over the period, according to commerce department data.
American solar companies have been saying that their Chinese counterparts could substantially reduce prices and flood the US market with solar products due to the subsidies. The higher duties would increase the prices of solar products from China.
China is the world's largest maker of solar panels, and has always denied the allegations of government subsidies.
China and the US have been engaged in a war of words after the latter indicted five Chinese military officials on charges of spying and hacking network systems of US companies.
The US also warned China over its territorial disputes with Japan and Taiwan.
The higher duties on solar imports are expected to weaken the trade relations between the countries further.
In counter measures, China is expected to increase tariffs on US imports of polysilicon, the material used to make solar cells.
China faced the same situation in its trade relations with the European Union, which also tried to increase import duties on Chinese solar products. In order to counter the move, China increased duties on European chemicals, wine and luxury cars.
Subsequently, the parties settled the dispute in 2013 after the EU set quotas and minimum prices on solar imports.