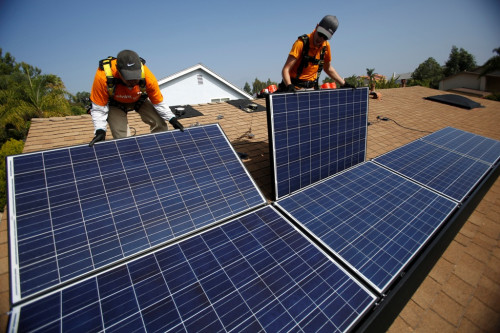 China has called on the US to end investigations into the alleged dumping of Chinese solar power products in the US market.
Expressing "serious concern", the Chinese government vowed to defend its manufacturers.
The move follows America's decision to probe the import of certain solar power products from China and Taiwan.
China proposes to weigh up the impact on its solar industry and "resolutely defend" itself through various mechanisms, Beijing said on Sunday.
The US commerce department probe and a parallel inquiry by the US International Trade Commission (ITC) could pave the way for higher duties on some imported solar panels.
The ITC is expected to make a preliminary ruling on whether there is a reasonable indication that imports from China or Taiwan materially injure, or threaten to injure, the US industry. The ruling will be made by 14 February. A negative finding would bring an end to the investigations.
However, if the ITC rules that imports could be harming the American industry, the Commerce department would make preliminary determinations about subsidies in March and dumping in June 2014, reported Reuters.
"The Chinese side expresses serious concern," China's commerce ministry said in a statement on its website on Sunday. "China urges the United States again to carefully handle the current ... investigations, be prudent in taking measures and terminate the investigation proceedings."
On 23 January, the US Department of Commerce said it began antidumping and countervailing duty investigations, to determine whether the products were being sold in the US below their fair value, or if their manufacturers received improper levels of foreign government subsidies.
The investigations were triggered by a complaint last year by the US arm of German solar manufacturer SolarWorld.
The company said it was seeking to close a loophole in a prior trade case that allowed Chinese solar panel producers to dodge duties by using photo-voltaic cells made in other countries, such as Taiwan.
EU Solar Dispute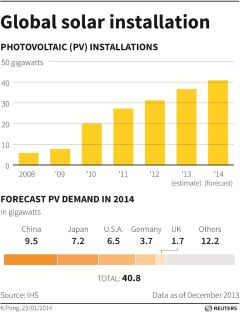 In September 2013, China Power Investments, one of five large energy producers in China, acquired a minority stake in Malta's Enemalta Corporation, a state-owned electricity supplier.
The €200m investment gave China Power a firm footing in the European solar panels business, just as the European Union regulated Chinese solar panel imports.
In July 2013, the EU and China agreed to resolve a dispute over the alleged dumping of solar panels by Chinese companies in Europe, after six weeks of talks.
The deal set a minimum price for China's solar panel exports to Europe, worth €21bn in 2012. With the deal, the EU abandoned plans to impose punitive tariffs on Chinese solar panels.
US Import Taxes
In October 2012, the US fixed steep duties on billions of dollars of solar products from China, but rejected requests to expand the scope of its order to include Chinese panels made with non-Chinese solar cells.
In response, many Chinese module manufacturers began sourcing cells from Taiwan.