US Intelligence Committee to grill Trump adviser 'Sloppy Steve Bannon' in Russia investigation
KEY POINTS
House Intelligence Committee speeding toward conclusion of interviews in Russia investigation.
Final result could be marred by partisan infighting.
The House Intelligence Committee is poised to question Steve Bannon, the onetime confidant to President Donald Trump, following his spectacular fall from power after accusing the president's son and others of "treasonous" behavior for taking a meeting with Russians during the 2016 campaign.
Bannon is scheduled to testify before the panel on Tuesday, according to a person familiar with the committee's plans. The person was not authorized to discuss private committee deliberations and spoke on condition of anonymity.
The testimony comes just one week after a very public excommunication from Trump's closest confines following the publication of Michael Wolff's "Fire and Fury."
In the book, Bannon accuses Donald Trump Jr., Jared Kushner and former Trump campaign chairman Paul Manafort of "treasonous" behavior for meeting with a group of Russian lawyers and lobbyists who they believed were ready to offer "dirt" on Democratic candidate Hillary Clinton.
More recently, Bannon has said he was not referring to Trump Jr. but rather to Manafort. Wolff contends the reverse.
After the book's release, Trump quickly disavowed "Sloppy Steve Bannon" and argued extensively there was no evidence of collusion between his presidential campaign and operatives tied to Russian President Vladimir Putin. Bannon apologized a few days later, but was stripped of his job leading the pro-Trump news site Breitbart News.
Bannon last year had largely avoided the scrutiny of congressional investigators, who instead focused much of their energy on trying to secure interviews with top witnesses like Manafort and former national security adviser Michael Flynn.
But Bannon played a critical role in the campaign, the presidential transition and the White House — all during times now under scrutiny from congressional investigators looking for possible evidence of a connection between Trump's operations and Russia.
Bannon recently retained the same lawyer being used by former Trump chief of staff Reince Priebus and White House general counsel Don McGahn. Neither Bannon nor his lawyer immediately responded to a request for comment on Monday.
The House Intelligence Committee is speeding toward a conclusion of its interviews in its Russia investigation. The final result could be marred by partisan infighting, which has some members discussing the probability that Republicans on the panel will issue one set of findings and the Democrats will issue their own report.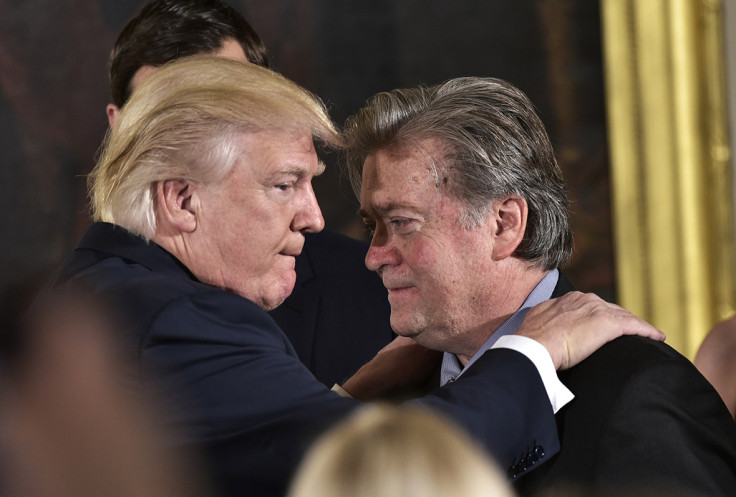 © Copyright IBTimes 2023. All rights reserved.