The US-led coalition has suffered more than 5,000 deaths and casualties in the bloody battle with Isis for the Iraqi city of Mosul, a US commander has revealed.
The coalition, which is backing Iraqi forces in the north of the country, has increased the number of sorties by 14% this month, with an average of 500 bombs being dropped on western Mosul each week.
The battle for Mosul has intensified in recent weeks as Iraqi forces stall in their bid to reclaim the jewel in the jihadists' crown – and once the largest city under Isis control.
General Joseph Votel, head of US Central Command, conceded on Wednesday (29 March) that 774 Iraqi troops have lost their lives in Mosul so far, 490 in the eastern half of the city and 284 in the west, with at least 4,600 injured.
And on the same day Washington announced that a formal inquiry will take place into the deaths of around 137 civilians in a single airstrike on 17 March, in what was the worst loss of civilian life at the hands of western armed forces since the beginning of the operation.
Lieutenant General Stephen Townsend, overall leader of the coalition fight against the Islamic extremists, said, according to USA Today: "This is the most significant urban combat to take place since World War II. It is tough and brutal."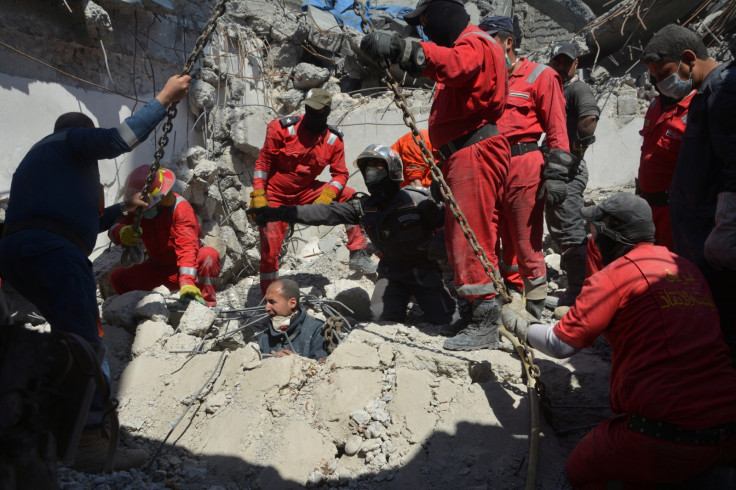 Inside Mosul, Iraqi forces – which consist of Shia, Christian, and Kurdish fighters as well as Sunni militias – have almost reached the steps of the symbolic al-Nuri mosque.
The altar of the famous mosque was the location where Isis warlord Abu Bakr al-Baghdadi declared the existence of the caliphate in 2014 after Isis took over the city in a lightning advance.
Tens of thousands of residents remain trapped in the city – which once was home to 1.5 million people – despite hundreds leaving daily.
The escaped citizens have had to endure barbaric treatment, with the Iraqi Federal Police publishing independently unverified drone footage of one jihadist forcing a child to cross the street with him, effectively as a human shield.