US Navy orders 'operational pause' of global fleet following USS John McCain collision
The Navy has also ordered an investigation into the series of collision incidents that took place in the past one year.
The US Navy on Monday (21 August) ordered a day-long "operational pause" of its fleet across the world. The decision came hours after their guided-missile destroyer USS John McCain collided with a heavily-loaded oil tanker, Alnic MC, in Asian waters - the fourth such incident in a year.
The Navy has also launched a broad investigation into its Pacific fleet following the series of accidents.
Monday's accident off the coast of Singapore left five sailors injured while 10 others were missing. A search and rescue operation was underway.
On 17 June, another US naval ship, the USS Fitzgerald, collided with a container ship in Japanese waters near the port city of Yokosuka leaving seven sailors dead. The Navy decided to remove the commanding officer and other senior crew members of the ship as punishment. Disciplinary action against other crew members was also announced recently.
In May, guided missile cruiser USS Lake Champlain collided with a South Korean fishing vessel, while it was on routine patrolling in international waters. No casualties were reported in the incident, but an investigation into the cause was launched.
"This is the second major collision in the last three months, and is the latest in a series of major incidents, particularly in the Pacific theater. This trend demands more forceful action," Navy Adm John Richardson, the chief of naval operations, said in a statement.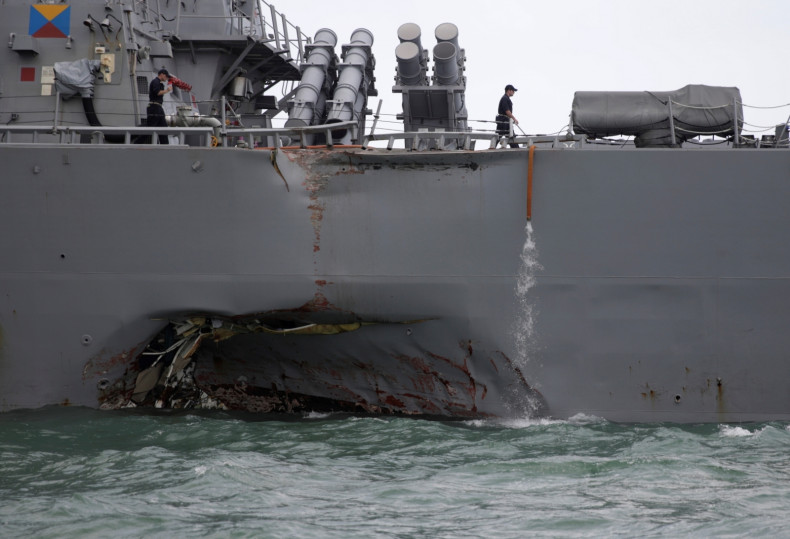 "I have directed fleet commanders to immediately conduct an operational pause with commands and leaders across the fleet, to ensure we are taking all appropriate immediate measures to enhance the Navy's safe and effective operation around the world," he added, according to CNN News.
A "comprehensive review into all potential factors contributing to the series of incidents" has also been launched, Richardson said, noting that the commander of US Fleet Forces Command, Adm Phil Davidson, will lead the review.
He added that the review "will be on a tight timeline" and mainly "examine the process by which we train and certify our forward deployed forces in Japan to be ready for operations and war".
"This will include, but not be limited to, trends in operational tempo, performance, maintenance, equipment and personnel. It will also focus on surface warfare training and career development, including tactical and navigational proficiency."