10 US sailors missing after USS John McCain collides with oil tanker off Singapore coast
The Alnic MC merchant vessel was reportedly carrying around 12,000 tonnes of oil, but fears of an oil spill have been ruled out.
A US Navy destroyer collided with an oil tanker off the coast of Singapore early on Monday (21 August). Ten sailors are missing and four were hospitalized in Singapore with injuries after being evacuated by helicopter. A multi-national search and rescue effort involving Singapore, Malaysia, Indonesia and the U.S. is underway.
The US guided-missile destroyer USS John McCain has arrived at Singapore's naval base with "significant damage" to its hull. The 7th Fleet says in a statement that damage caused floods in compartments including crew berths, machinery and communications rooms. It says damage control efforts prevented further flooding.
USS John McCain collided with the heavily-loaded merchant vessel, Alnic MC, sparking fears of an oil spill. However, reports indicate there was no spill following the collision.
This is the second serious collision involving a US Navy ship in recent months. Seven Navy sailors were killed on 17 June when another guided missile destroyer, the USS Fitzgerald, collided with a container ship off the coast of Japan. Two senior officers and the senior enlisted sailor on the USS Fitzgerald were removed following the accident.
Both ships, part of the Seventh Fleet, are part of the US missile defence shield against North Korea.
Monday's collision took place east of the Straits of Malacca and Singapore at around 6.24am Japan time (10.30pm BST previous day), the US Navy said. The accident took place as the American ship was sailing to a routine port stop in Singapore.
The merchant vessel — a 183-meter oil tanker with a deadweight of more than 50,000 tonnes — was carrying nearly 12,000 tonnes of fuel oil from Taiwan to discharge in Singapore when it collided with the American missile destroyer, a crew member told Reuters.
"We have not discharged the tanker yet," the crew member, who asked not to be identified, added. "We are proceeding to Raffles Reserved Anchorage, where the owners will investigate the matter. There was some damage to the valve but no oil spill."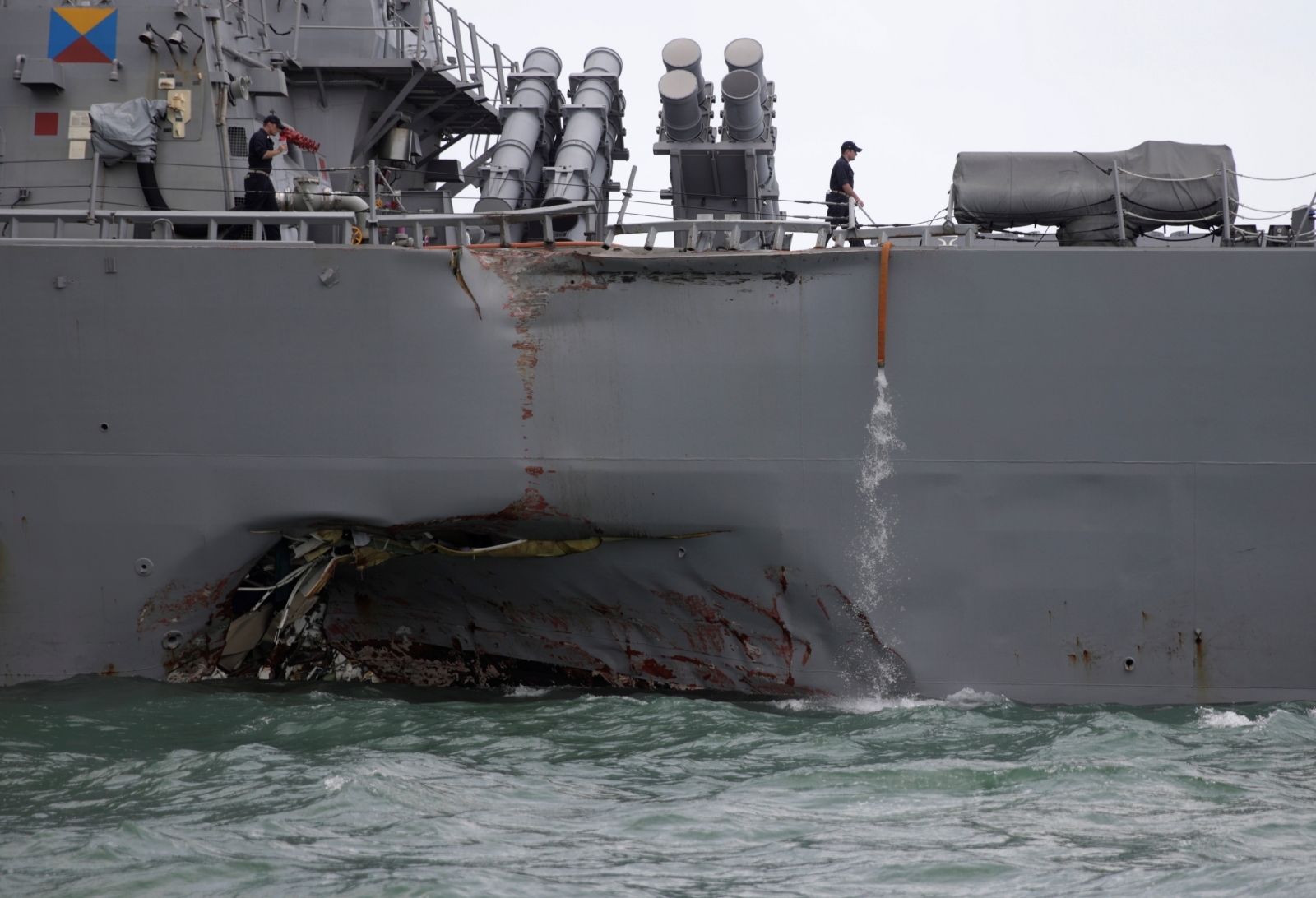 The USS John McCain, meanwhile, "is currently sailing under its own power and heading to port," the US Navy said. Initial reports said the ship had "sustained damage" to its port side.
The destroyer is named after the grandfather and father — both US admirals — of US Senator John McCain, who tweeted that he and his wife were praying for the sailors.
"Cindy & I are keeping America's sailors aboard the USS John S McCain in our prayers tonight — appreciate the work of search & rescue crews," McCain wrote on Twitter.
US President Donald Trump also expressed his grief over the accident. "Thoughts & prayers are w/our @USNavy sailors aboard the #USSJohnSMcCain where search & rescue efforts are underway," he wrote on Twitter.
Besides, USS Fitzgerald and USS John S McCain that are both ballistic missile defence capable ships, or BMDs, the Seventh Fleet comprises four other ships. The recent accidents of both these ships have raised a question if the US was looking at replacing them to strengthen their defences in the region, especially amid frequent provocations from North Korea.
A spokesman for the Seventh Fleet, however, told Reuters that it was "way too early to know" if the two destroyers need replacement.
Meanwhile, the USS John McCain was recently in the news for sailing in the disputed South China Sea. Two Chinese frigates and a Chinese coast guard vessel had reportedly shadowed the US destroyer as it undertook a freedom of navigation operation within 12 nautical miles of Mischief Reef - a man-made island built by China in the waters.