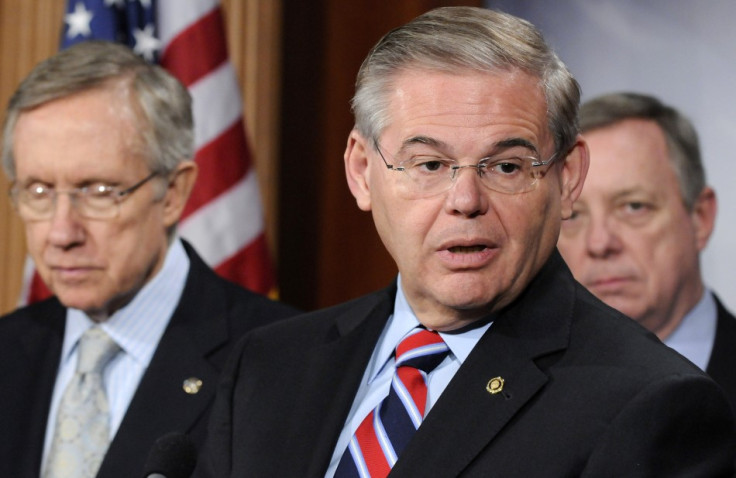 New Jersey Senator Robert Menendez was formally indicted by the Department of Justice on 1 April with conspiracy, bribery and fraud charges.
The Democrat was charged with one count of conspiracy, one count of violating the travel act, eight counts of bribery and three counts of honest services fraud along with Dr. Salomon Melgen of Florida.
According to the LA Times, Menendez allegedly received nearly $1m (£675,319.77) in gifts and campaign contributions from Melgen in exchange for helping the West Palm Beach man in his business and personal interest.
Menendez, who was also charged with one count of making false statements, denied any wrongdoing and vowed to fight the charges.
"I'm outraged that prosecutors at the Justice Department were tricked into starting this investigation three years ago with false allegations by those who have a political motive to silence me, but I will not be silenced," the senator told reporters. "I'm confident, at the end of the day, I will be vindicated and they will be exposed."
He added, "I am not going anywhere. I'm angry and ready to fight, because today contradicts my public service career and my entire life."
Despite vowing to fight the indictment, the New Jersey senator stepped down from his ranking member position in the Senate Foreign Relations Committee in a statement released on his website.
"While there is no caucus rule that dictates that I do so, I believe it is in the best interest of the Committee, my colleagues, and the Senate which is why I have chosen to do so," the statement read. "I want to reaffirm our understanding that I will once again ascend to the Ranking Member position of the Senate Foreign Relations Committee upon the successful resolution of the allegations before me."
According to The Hill, Menendez's decision to step down from his position from the committee could derail the Iran legislation he co-authored with Tennessee Republican Senator Bob Corker. The bill, which is set to go to vote on 14 April, would give the Senate the ability to weigh in on any nuclear deal with Iran.
Senate Democrats appear to be distancing themselves from the senator. MSNBC reported that Minnesota Senator Amy Klobuchar has announced she intends to return all campaign contributions she received from Menendez's PAC. Other Democrats could follow suit, which could push him closer to resignation.
However, Menendez does seem to have the support of those across the aisle. Several Senate Republicans have suggested the charges are part of a White House conspiracy against Menendez for his lack of support in the Iran deal.
Republican Illinois Senator Mark Kirk told reporters, "Bob Menendez has been an excellent partner to me on the Iran stuff, and I'm worried now by leaking stuff [from] Justice it's politically motivated to silence Bob for his work on Iran, which he should be praised for".
Menendez has faced talk about criminal indictment for years, but this is the first time he has been formally charged. According to MSNBC, previous allegations were either discredited or ignored.