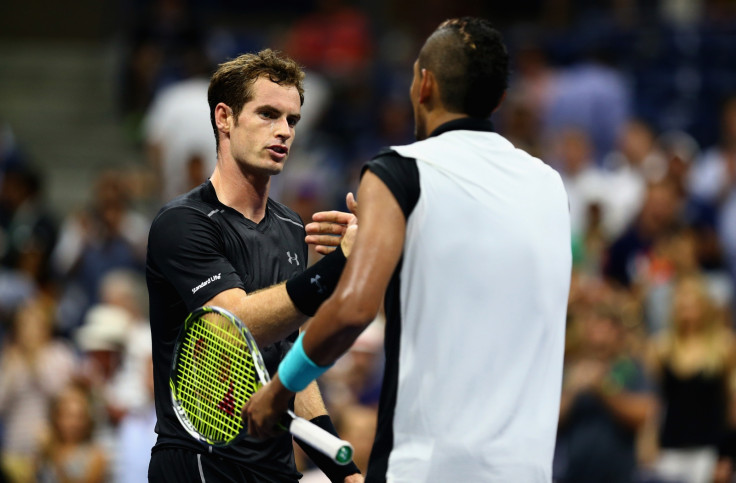 Andy Murray ignored Nick Kyrgios's enigmatic behaviour to cruise through the first round of the US Open with a four-set win at New York's Arthur Ashe Stadium yesterday (1 September 2015). The 2012 champion won through 7-5, 6-3, 4-6, 6-1 to set up a second-round meeting with France's Adrian Mannarino. Murray has maintained a 100% record over the Australian Kyrgios.
But the performance of the British number one was again overshadowed by the antics of Kyrgios, which came in his second match since being reprimanded by the Association of Tennis Professionals (ATP) for an "aggravated behaviour" offence while playing against Stanislas Wawrinka in the Canada Open. Kyrgios gesticulated at the chair umpire, threw his racket down in frustration and even took a brief nap during a changeover at an eventful outing at Flushing Meadows in New York City.
Kyrgios was warned after the incident in Montreal – in which he also alleged that fellow Australian Thanasi Kokkinakis previously had a relationship with Swiss right-hander Wawrinka's girlfriend Donna Vekic – that he would face a hefty fine and suspension if found guilty of a repeat offence in the next six months. However, Kyrgios was let off the leash at the US Open, with the grand slam event not directly under the jurisdiction of the men's tennis governing body.
The 20 year old had new adviser Lleyton Hewitt courtside, but the presence of the two-times major winner appeared to have little impact on Kyrgios's conduct, which influenced his concentration as Murray cruised into the next round. Though the ATP are not able to take further action, he will continue to be monitored ahead of the final months of the season.
Murray, meanwhile, felt that Kyrgios's failure to keep focus allowed him enough opportunities to complete the four-set win. "I actually don't think that he plays that high-risk tennis," he told Sky Sports. "It's more the ups and downs. Like when he's on, he doesn't play high-risk tennis. He hits the ball with a lot of spin on his forehand, a lot of safety and his backhand is a really good shot, he hits it flat. The two strokes are completely different.
"He has an excellent serve, one of the better serves on the tour. It's just the sort of five or 10-minute periods in the match, it happens a little bit too often, where he has dips. He misses a few serves, gets distracted or loses concentration. That's where I capitalised tonight, I think."