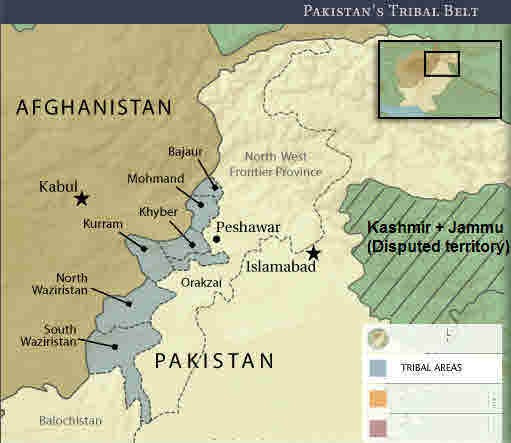 Despite pretending that the withdrawal of $800m of U.S aid money would not have a great impact, Pakistan has now responded by warning it could withdraw troops fighting Taliban and Al-Qaeda insurgents from the Afghan border if the US continues to withhold the military assistance money.
The U.S announcement angered Pakistani officials who said that the cash includes $300m to reimburse the Pakistan military for deploying troops in the mountainous tribal areas close to Afghanistan.
Chaudhry Ahmad Mukhtar, the country's defence minister, said without it Pakistan could not afford to keep troops at 1,100 checkpoints near the mountainous border.
"The next step would be that the government or the armed forces will pull back the forces from the border areas," he told the Express 24/7 news channel. "We cannot afford to keep military out in the mountains for such a long period."
Officials say that approximately 147,000 troops are deployed in the tribal areas, where they fought Taliban and al-Qaeda cells and supported the U.S fight against terror.
Relations between the two countries have been tensed for a few years, but the secret U.S raid that led to the killing of ex Al-Qaeda leader Osama bin Laden in May in the city of Abbottabad, only 30 miles from the capital Islamabad, has contributed in the decline of the friendship. While Washington has accused Pakistan of failing to cooperate, the Pakistani government has accused the U.S of violating its sovereignty.
The authorities have also stepped up their condemnation of CIA drone strikes against terror suspects and expelled American military trainers, and refused to issue visas.
In return, US officials have questioned Pakistan's commitment to tackling militants and accused the government of assassinating a troublesome journalist.
After it emerged that the Pentagon decided to end a third of its annual $2.7bn assistance to the Pakistan military, Colonel David Lapan,the Pentagon spokesman, said the military aid could be resumed if Pakistan increased the number of visas for US personnel and reinstated the training missions.
Also, this week Hillary Clinton hinted that a better cooperation from the authorities could lead to a release of new funds. However, analysts in Islamabad said such threats would be counterproductive and warned of an anti-American backlash.
Moreover, continuing drone attacks risk to only further exacerbate tension as on Tuesday, at least 45 suspected militants were killed by missiles in Pakistan's northwest, according to local intelligence officials, one of the largest death tolls to date in the controversial air bombing campaign.