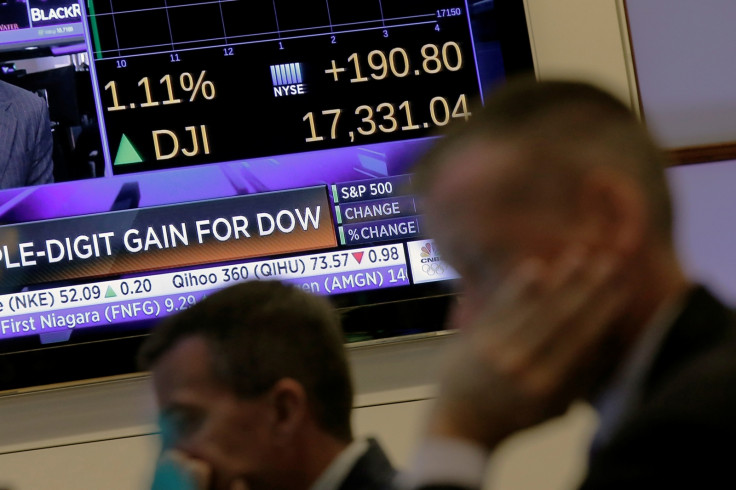 US stocks rallied on Tuesday (28 June) on the third day of trading since UK voters chose to exit from the European Union in the 23 June EU Referendum. Major averages were able to recover some of the losses experienced in the days following the Brexit vote, with the Dow Jones regaining more than 250 points of the 900 points lost in the previous two sessions.
The Dow Jones Industrial Average climbed 269.48 points, or 1.6%, to settle at 17,409.72. Gains were led by a rise in Travelers Cos shares, with DuPont the only stock ending down, CNBC reported.
The S&P 500 rose 35.55 points, or 1.8%, to close at 2,036.09, with all 10 main sectors finishing in positive territory, MarketWatch reported. Gains were led by a more than 2% rise in the energy, financial and technology sectors. According to CNBC, energy rose more than 2.6% and financials closed nearly 2.5% higher.
Meanwhile, the Nasdaq Composite jumped 97.42 points, or 2.1%, to end at 4,691.87. Facebook, Apple, Amazon and Microsoft contributed to gains on the Nasdaq 100, while Monster Beverage, Illumina and Dollar Tree weighed.
"People are starting to say maybe this is going to take longer than they thought and maybe the impacts on the US market won't be nearly as great at feared," Rick Meckler, president of LibertyView Capital Management told Reuters. "So I think you've seen a bit of bargain-hunting."
Despite the rebound, investors remain cautious in case of any possible volatility in the following weeks as uncertainty on how the UK will move forward on its exit of the EU lingers, Reuters reported. The main US stocks plummeted to their worst two-day performance in 10 months following the Brexit vote.
"The selloff after Brexit is very similar to a selloff in 2011 when the US credit rating was downgraded. We expect markets to recover just as they did five years ago," Doug Cote, chief market strategist at Voya Investment Management, said to MarketWatch. Cote also warned that volatility was not ending.
"Politics and markets are more intertwined in this crisis than any other crisis and it's hard to predict which way politics would go," Cote added. The CBOE Volatility Index (VIX), however, dropped 21% to trade around where it was prior to the Brexit vote, Reuters reported.
US crude oil futures rose $1.52 (£1.14;€1.37), or 3.28%, to $47.85 (£35.84;€43.21) a barrel.
Overseas, European stocks closed higher and Asian stocks ended mostly up. The FTSE 100 jumped 2.6% and the German DAX added 2% in Europe. While in Asia, Japan's Nikkei 225 managed a 0.09% gain, CNBC noted.
The US dollar index traded 0.6% down to 95.916, with the euro near $1.109 and the yen by 102.7 yen against the greenback. The pound sterling was slightly above lows at $1.336. Treasury yields held a bit higher than recent lows, with the 10-year yield near 1.46% and the 2-year yield by 0.61%.
In economic news, the final revision of the first-quarter GDP slid up to 1.1% and the Conference Board's June consumer confidence index arrived at 98.0, it's highest since October 2015. The economic data "reminded people that the US economy is still in very good shape and sort of refocused everybody on the bigger picture, and let's step back from the edge in regard to Brexit," John Traynor, chief investment officer of People's United Wealth Management, told Reuters.