Thousands of demonstrators descended on Parliament to express solidarity with the European Union and refugees on Tuesday 28 June, following the UK's dramatic Brexit vote in the EU referendum on the 23 June. The protests, which were reportedly spontaneous rather than organised by any one group, were generally good-natured, but insults were directed at former London mayor, Boris Johnson, and the Leave campaign.
At one point, protesters reportedly spotted Conservative MP for Broxtowe and Remain campaigner Anna Soubry, who addressed the crowd. Following reports that there has been a rise in hate crime since the result, Soubry - who is also Minister for Small Business - advised anyone being abused to contact the police. She was close to tears as protesters hugged her, according to Sky News' Faisal Islam.
Protesters also sang "hey EU" to the tune of The Beatles song "Hey Jude" and chanted "down with Boris" and "leaders not liars" — in apparent reference to the back-tracking on various promises by the Vote Leave side since the referendum went their way. The turn-out was reportedly far larger than one organised in support of Labour leader Jeremy Corbyn the previous night (Monday 27 June).
Liberal Democrat leader and Remain campaigner, Tim Farron, told the demonstrators: "We have been betrayed. The people of Britain are proud to be European, we must stand together. This is reversible."

The Brexit vote has sparked the most serious UK political crisis for decades, and many people -including protesters and MPs - are calling for the result to be overturned or for another referendum to be held.
An estimated three million people have signed online petitions demanding another vote, but Prime Minister David Cameron has ruled out the prospect. Many people, mostly but not exclusively those on the leave side, are outraged by suggestions that the will of 17 million people could possibly be ignored.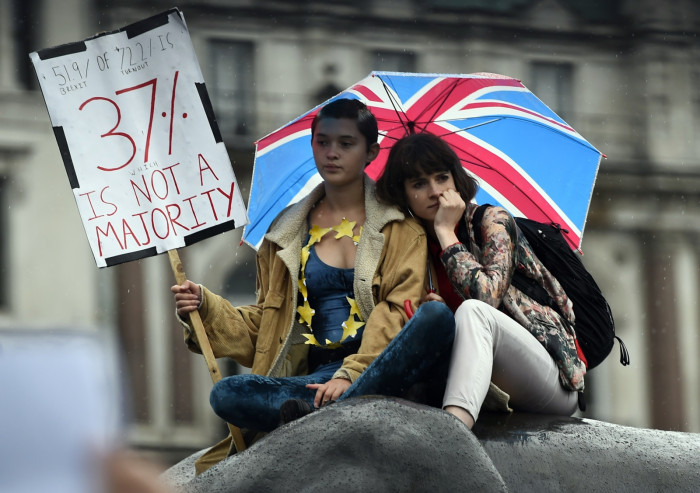 Another theme at the demonstration was that of mostly older people voting to leave the EU and harming the future prospects of young people. One speaker at the demo said: "The past has voted for the future" according to the BBC's Chris Mason. However it was estimated that only 36% — a third — of 18-24 year-olds actually voted last Thursday.