Ukip leader and Leave vampaigner Nigel Farage laughed off terse exchanges with fellow MEPs at the EU Parliament in the wake of the UK's decision to leave the EU, claiming he had been abused from the moment he began talking.
Farage received a hostile reception at the EU Parliament in Brussels, Belgium, where he was openly heckled by some MEPs and in a provocative and triumphant speech, said the Brexit vote showed the EU was in denial.
"Virtually none of you have ever done a proper job in your lives or worked in business or worked in trade or indeed ever created a job," he told those assembled, adding: "I will make one prediction this morning; the United Kingdom will not be the last member state to leave the European Union."
In a candid interview with CNN's Richard Quest, broadcast from the EU parliament in Brussels, Belgium, Farage also said concern over world markets was nonsense, Donald Trump would make a better President than Hillary Clinton and that he hadn't corrected Vote Leave claims about £350m per week to the EU because he was "too nice."
Later, Farage told CNN he had wanted to have a mature, friendly discussion about the way forward. "I said to them, can we be grown up about this? Can we talk about trade deals? And then they all laughed and giggled. That was when I said to them, well, the trouble with you people is none of you have ever had a proper job — which wasn't wrong!"
The impact of the Brexit vote continue to impact on world markets, though the pound rose today and the FTSE 100 share index closed up 2.64% at 6,140.39. Farage, himself a former commodity broker, said: "The FTSE is up 3% today, 12% up since its lows in February. Sterling is marginally lower than it was in February. So can we stop this nonsense about the market?"
Farage also spoke of his admiration for Trump, saying he "dares to talk about things that other people want to brush under the carpet." As for Trump's Democrat opponent: "There's nothing on earth could persuade me ever to vote for Hillary Clinton."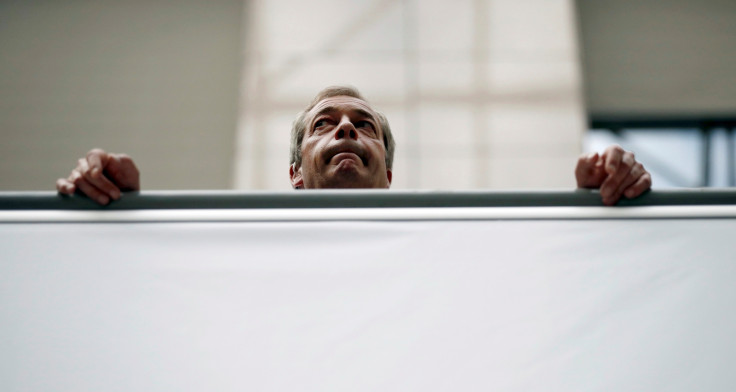 Since last week's shock result, the Leave side have come under fire for the assertion that the UK gave the EU £350m ($220m) every week when the country could look at spending that money on the NHS. Farage claimed he'd personally said the UK handed over £220m a week. Asked why he hadn't corrected the claims of his co-campaigners he said: "That's my problem. I'm just too soft, too kind, and too easy."