For a couple of seconds on 15 August, I feared for the future of athletics. Convicted dope cheat Justin Gatlin, having started better than Usain Bolt in the 100 metres final, looked like he might take home a gold medal. Had it happened, the boos that rang around Rio as the American entered the stadium would have spread around the world, and the sport would have been damaged, perhaps beyond repair.
In winning against Gatlin, a man who once tried to intimidate Bolt by spitting in his lane as they lined up, it is not an exaggeration to say the Jamaican saved his sport. Again. Just as he did at last year's World Championships in Beijing. Just as, I so sincerely hope, he does at next year's World Championships.
And how lucky is London to be hosting those Games, where he may well be competing for the very last time? I'm sure London will show Rio how to fill a stadium for that one. No wonder the organisers are already doing a roaring trade selling tickets under the banner 'The Race Is On,' as you can see in this lovely little film with Paula Radcliffe and others.
It is not just Bolt's speed and success that has made him such a star; one of the few names in sport that you could mention anywhere in the world, and people know who you are talking about. It is his extraordinary charisma, warmth and personality.
I was lucky enough to spend a bit of time with him a few months ago, in his homeland Jamaica, a place he loves, and a place that loves him. He was making a commercial which you may have seen on TV recently for Enertor , a new shoe insole that is Bolt's latest investment venture as he transmutes from athlete to post-athletics businessman and global brand.
And how is this for patriotism; if ever he is doing commercial work for the big corporates that have made him a multi-millionaire, he charges a premium if he has to leave home. That way, the corporates usually opt for Jamaica, and have to hire Jamaicans to do the work.
So as we chatted in a luxury air-conditioned motorhome, all around us in the searing heat were Jamaican cameramen, Jamaican make up artists, riggers, lighting staff, drivers, gofers and caterers. Lots of caterers. At various points, children who were involved as extras would appear at the door of the motorhome, and Bolt would say 'Hi,' chat to them, mess around, make them feel good.
In sporting and celebrity terms, he is huge. I was interviewing him for GQ, and an editing accident meant my first question was lost. So let me use it here.
The interview was done before Ali's death, which of course generated enormous global coverage.
If Bolt goes on in Rio to win the 200m and the 4 x 100m relay, to complete a remarkable treble of three Golds in three successive Olympics, it will surely be the greatest track and field achievement of all time.
Nor will he disappear. Seb Coe, President of the IAAF, has been sounding him out about how he stays in the sport. Doubtless new talents will emerge. But how many will have the range of qualities he brings to athletics?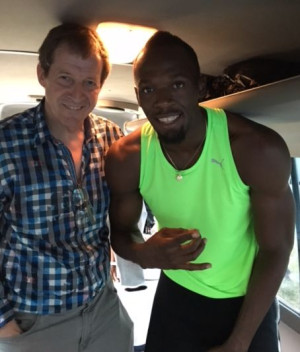 His 'I'm giving myself Number 2' sounds boastful. In fact, there is a real humility to Bolt. He is still a self-confessed Mummy's Boy. He wears his fame lightly, and can joke about its consequences. As people clamoured for photos, he said the selfie was 'the worst invention ever' for famous people.
With autographs, you could just scrawl your name. 'With selfies, so many people don't know how to use their phone or camera.' Then comes the great booming laugh again. Then he poses for more selfies.
More humility: I asked if he was even bigger than Bob Marley. He said nobody was bigger than Bob Marley. He told me the story of one of his first trips overseas as a young athlete, to Hungary. He heard a Bob Marley song being played. Everyone knew the lyrics. He was stunned. Proud, and stunned.
The other reason people love him is that he makes it all look so easy. OK, he didn't get the best start last night. But how many 100 metres winners have time to pat themselves on the chest before they cross the finishing line? He didn't even dip.
But if you see him train, my God, he works. Vomiting on the unassuming track, at the University of West Indies in Kingston, after a particularly tough session. But if his coach, Glen Mills, tells him he has to 'go again,' he goes. Mills is the one man who can always get Bolt to do what he wants him to; his Mum the only woman.
The image of the happy-go-lucky cool guy, who loves playing football with his mates, still fantasises about playing for Manchester United – especially now Zlatan is there – still has to be lectured about diet, and still loves to go clubbing and dancing, belies an absolute steel when it comes to training, and above all to competing.
There is a hardness there, which there has to be to have achieved what he did.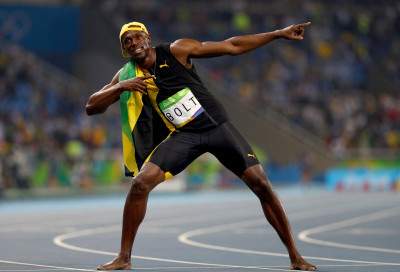 When I wrote about Bolt for my book on winning, Winners and How They Succeed, I said:
Usain Bolt enjoys lie-ins and parties and "messing around" with girls. He admits having dabbled with marijuana in the past and he loves junk food, once eating a hundred chicken nuggets in a day (while competing in the Olympics).

Yet given Bolt is the fastest man on Earth, nobody can dispute that he's a winner. His charisma and his evident love of people have also made him one of the most popular sports stars in the world. The difference with golfer Tiger Woods is stark. It shows it can take all sorts to win. But amid the 'fooling-around' image and the amazing natural talent, it is possible to find points of connection.

Bolt loves winning, hates losing. He knows that he needs others to push him, and made sure to find the right coach for him, Glen Mills, who became like a second father. He learns from mistakes. He has learned to endure physical pain in training and in competition. He has learned to use setbacks as opportunities. He only started really to flourish when he stopped caring about what people thought."
We are back, I learned, to the Glen Mills influence.
Win. Winning. When all is said and done, that is what he is about. The fact he does it with such style and grace is just the added bonus that makes him Bolt, not any other medal winner.
We talked about two another winners in my book, boxer Floyd Mayweather, and swimmer Michael Phelps. Perhaps surprisingly, swimming is his third favourite sport after athletics and football, and Phelps the athlete he most admires in the world. But he was unimpressed by the world's richest athlete.
Here's a tip for you. Go for nine.
PS: If you want to see what a great guy he is, look at my Twitter feed for yesterday @campbellclaret and see the two videos I posted with Bolt. How many Dad Brownie Points did I secure in getting the world's greatest living Jamaican to sing Happy Birthday to my Reggae-loving, Jamaica-obsessed daughter Grace?
The man is a genuine superstar. A total legend. And a top, top bloke, which is why all around the world, there are bleary eyes today, and sofas that took a battering as people the world over jumped up and down in celebration of his latest incredible triumph.
I feel so privileged to have met him, and hear him tell me how he does it.
---
Alastair Campbell is a British strategist and writer, best known for his work as Director of Communications and Strategy for Prime Minister Tony Blair between 1994 and 2003. He is the author of eleven books, the latest of which, Winners And How They Succeed, was a Number One bestseller. He is Ambassador for mental health campaign Time to Change.